In January, Fox News Posted a Video of Cars Mowing Down Protesters That Urged Viewers to "Study the Technique"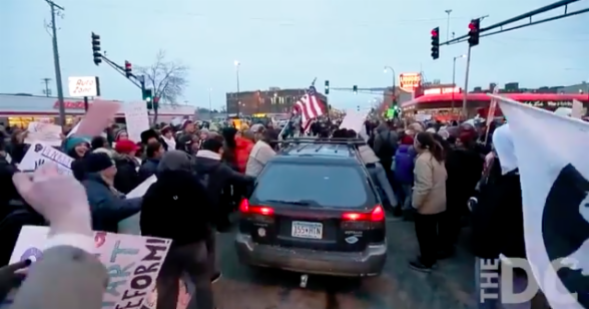 Conservatives are rightfully aghast at the terror attack on Saturday that left one woman dead and more than a dozen injured in Charlottesville, Virginia.
But as I wrote Monday, the idea of using a vehicle to speed through a crowd of protesters has been a right-wing fantasy since the dawn of the Black Lives Matter movement. "Run them over" is a rote, right-wing response to street protests from Black Lives Matter to Standing Rock, and the sentiment has been publicly expressed by, among others, USA Today columnist and law professor Glenn Reynolds and a handful of police officers, including the head of the Santa Fe police union.
What follows is one of the more disgusting and prominent examples of the trend: a 90-second video published by the Daily Caller, the conservative site founded by Tucker Carlson. The video, which the Daily Caller's Mike Raust published on Jan. 28—the day that Donald Trump's travel ban brought thousands of demonstrators to international airports—is set to a folksy cover of the 2001 Ludacris hit "Move Bitch."
In the text accompanying the video, Raust advised:
Here's a compilation of liberal protesters getting pushed out of the way by cars and trucks. Study the technique; it may prove useful in the next four years.
Caution: This video contains graphic footage of people being run over by cars.
The post earned 20,000 Facebook likes and was subsequently reposted by Fox Nation, the aggregator section of Fox News. It's another reminder that running through crowds of protesters has been a popular joke—and then some—even on mainstream provinces of the American right since long before Charlottesville.
Update, 4:47 p.m.: Fox News released this statement from Noah Kotch, the editor-in-chief of Fox News Digital: "The item was inappropriate and we've taken it down. We regret posting it in January."
Update, 7:41 p.m.: The Daily Caller has also taken down its post.