Iran Launches Missile Strikes Targeting ISIS in Syria, Dramatically Escalating Role in Syrian Conflict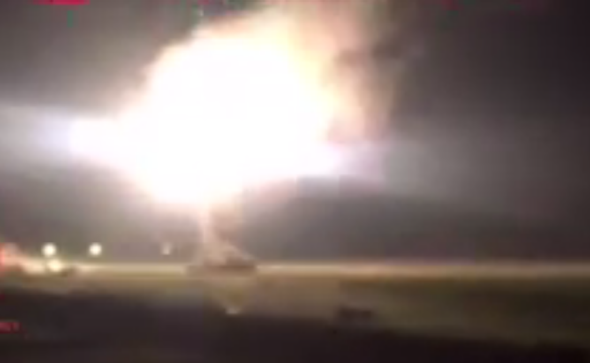 Iran announced Sunday the Iran Revolutionary Guards had launched ballistic missile strikes on Saturday against ISIS targets in Syria, dramatically escalating the country's role in the Syrian conflict. The mid-range ground-to-ground missiles targeted militants in eastern Syria in retaliation for the deadly terrorist attacks in Tehran earlier this month. Iran vowed to respond to a brazen coordinated pair of attacks on its parliament building and the tomb of Ayatollah Ruhollah Khomeini, the founder of the Islamic Republic. ISIS claimed responsibility for the June 7th attack. An Iranian official called the strikes "soft revenge" for the Tehran attacks.
The extent of the damage from the missile strikes in the ISIS stronghold remains unclear. A statement from the Revolutionary Guards claimed the attack killed terrorists and destroyed equipment and weapons.
A map showing the distance the missiles crossed from Iran to Syria, some colleagues suggesting it's around 700-800 KM pic.twitter.com/0Z0RQyQlgj

— Ali Hashem علي هاشم (@alihashem_tv) June 18, 2017
"Sunday's assault marked an extremely rare direct attack from the Islamic Republic amid its support for embattled Syrian President Bashar Assad," the Associated Press notes. This is the first use of mid-range missiles in nearly 30 years, since the end its war with Iraq. Iran, a majority Shiite state, is allied with the Assad regime in Syria and has been providing military assistance in the government's multidirectional battle against insurgent groups there.