Right-Wing Protesters Rush Stage, Disrupt Trump-Themed Julius Caesar Production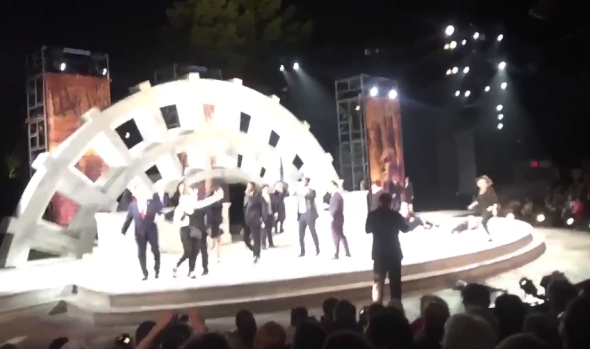 The Public Theater's Trump-inflected production of the Shakespeare play Julius Caesar is back in the news this weekend, as right-wing activists disrupted the Friday evening performance in Central Park, when a woman rushed the stage shouting. The stage-jumper, later identified as Laura Loomer, interrupted the performance just after the assassination of Julius Caesar. The portrayal of the Caesar character as resembling President Trump—with blond bouffant and long red tie—sparked outrage on the right this week and cost the theater a handful of its corporate sponsors.
On Friday, Loomer climbed onstage at the free performance shouting: "Stop the normalization of political violence against the right! This is unacceptable!" A theater official quickly announced over a loudspeaker that the play would pause briefly while security escorted Loomer from the stage. As she was escorted out, Loomer continued to shout "You guys are just as bad as ISIS" and "Because of liberal violence like this, a congressman this week was shot in Virginia," according to the New York Times.
A second pro-Trump activist Jack Posobiec recorded Loomer from another seat in the open-air auditorium. Posobiec shouted "You are all Goebbels!" and "The blood of Steve Scalise is on your hands!" while filming, before being escorted from his seat while shouting "Goebbels would be proud."
"Two protesters disrupted our show tonight; we stopped the show for less than a minute and our stage manager handled it beautifully," Oskar Eustis, the director of the production, said in a statement. "The staff removed the protesters peacefully, and the show resumed with the line 'Liberty! Freedom!' The audience rose to their feet to thank the actors, and we joyfully continued. Free speech for all, but let's not stop the show."
Posobiec has been associated with fringe conspiracy theories, like Pizzagate. Loomer said she was arrested following her removal from the production; Posobiec said he was not arrested.