Trump Allies Say the President's Considering Firing Russia Investigation Special Counsel Mueller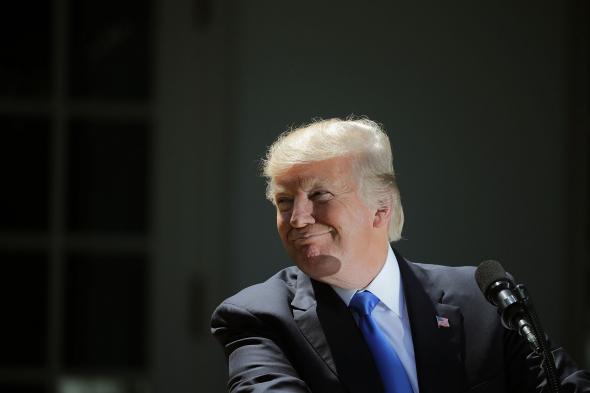 Here you were thinking things couldn't get any more insane. With the tenure of Russia investigation special counsel Robert Mueller all of 27 days old, on Monday, Trump ally and buddy Chris Ruddy casually told the PBS NewsHour the president was considering firing Mueller well before much of anything has even been investigated. This might not surprise you because you have been alive for the last two years and during that time it's become abundantly clear that at any given moment the current president kinda, sorta wants to fire anyone and everyone who still works for him and isn't named Donald Trump.
"I think he's considering, perhaps terminating the special counsel. I think he's weighing that option," Ruddy told NewsHour host Judy Woodruff. "I think it's pretty clear by what one of his lawyers said on television recently. I personally think it would be a very significant mistake even though I don't there's a justification … for a special counsel in this case." Ruddy, who is also the CEO of rightwing media outlet NewsMax, went on to suggest that Mueller has a vague conflict of interest because he was being "considered" for the FBI director job and others. Who knows if that is true or what exactly Donald J. Trump "considers" on a day-to-day basis. One thing we do know is that Robert Mueller received wide, bipartisan support for his integrity and independence when appointed special counsel to oversee the investigation into the Russian mess that Trump created. Last week, Trump himself said he would testify under oath and cooperate with Mueller's investigation.

Ruddy's complaints about Mueller, however, echo a new line of attack from Trump allies aimed at undercutting the legitimacy of the investigation. Firing Mueller still appears unlikely (at the moment), but let's be clear, it would amount to an incineration of the charred vestiges of the norms, ethics, and credibility of the executive branch. This is perhaps unsurprising given the unprecedented nature of the Trump presidency so far. Under normal circumstances, threatening to fire, much less actually terminating, someone investigating you, would be political suicide. But Trump's already fired James Comey. Every single other person close to him—Spicer, Conway, Sessions, Preibus, Bannon, and on and on—have been apparently close to the brink at one point or another. Let's just say, firing Mueller wouldn't be a stretch for a president with an itchy trigger finger and no discernable conscience to speak of.

At first glance, this is a tried-and-true tactic of team Trump—attempt to discredit your opponents. Even offer them a job—or appear to offer them a job—so that when they come back and criticize you later you can claim they are jilted and bitter and biased. So far this opening salvo from the Trump administration is just that—a sleight of hand used to sow confusion. But what happens if Trump actually ousts Mueller? Is that the moral bottom that will spur congressional Republicans into action? Don't bet on it, the leaders of the Republican party—despite being scorned and humiliated by the president—are in far too deep at this point. Expect them to wait this out until the bitter end and hope, like Trump, that we've all forgotten who's to blame. Here's something more likely:
If President fired Bob Mueller, Congress would immediately re-establish independent counsel and appoint Bob Mueller. Don't waste our time.

— Adam Schiff (@RepAdamSchiff) June 12, 2017
Perhaps that is the exact point here—wasting time. Each time the investigation gets muddled or starts over, it becomes harder to remember who started what and said what, who's trustworthy and who's to blame. It doesn't play well for a president who is interested in a legislative agenda, but you don't still think there's a Trump agenda, do you? Sure, roads and bridges. The grand ambition of building roads or airports or whatever is so vanishingly minute, so simplistic, it's time to stop giving it more credit than it's due as a coherent plan. It's a line item, not a raison d'être.
Once we all stop with the conceit that Trump's just dying to get back to the *Trump agenda,* the motivation behind moves like potentially firing the special counsel will start to become increasingly clear: Wreak havoc and live to fight another day. Each day Donald Trump remains president is another day the Trump family will surely profit from the office—now and in the future. Each day, Donald Trump is president, the lights will turn on, the cameras will roll, Twitter will meltdown, the world's attention—and horror—will be trained on Donald Trump. That's Trump's business model. That's the Trump agenda. Everything and everyone else is just a means to that end.