Turns Out Our Powerful Armada Wasn't Steaming Toward North Korea After All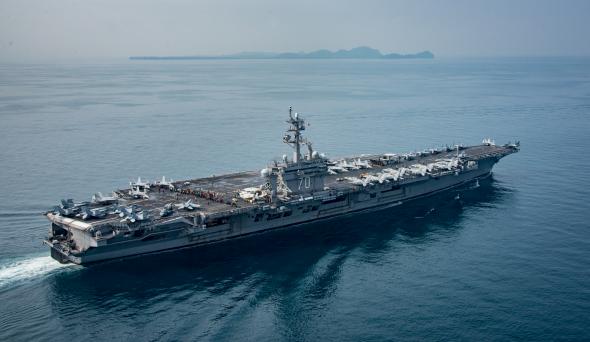 Donald Trump has two main ideas about military strategy. The first is not to micromanage his generals, giving them wide latitude to conduct operations as they see fit. The second is not to explain what you're doing in advance, so as not to give away your intentions to the enemy. It turns out that his administration is so hands off and so unpredictable that it spent much of last week hyping an ongoing military operation that didn't actually exist.
One big reason for all the speculation that a military clash with North Korea was imminent last weekend was the news that a U.S. Navy strike group, led by the aircraft carrier Carl Vinson, was steaming toward the Korean peninsula as a show of force against Kim Jong-un's nuclear tests. But, the New York Times reports Tuesday that the Carl Vinson was actually headed in the opposite direction last week, toward the Indian Ocean, and that a "glitch-ridden sequence of events" had led to the widespread impression that the "armada" had been sent to Korea.
The Times story is pretty skeletal, at least in its first published version, and I expect we'll be hearing a lot more about this, but here's a basic sequence of events:
Jan. 5: The Carl Vinson carrier strike group leaves San Diego on a regularly scheduled deployment to the Western Pacific. In addition to the Carl Vinson, which can carry up to 90 aircraft, the group includes a squadron of destroyers.
April 5: North Korea test fires a medium-range ballistic missile just ahead of a planned summit meeting in Florida between U.S. President Donald Trump and Chinese President Xi Jinping, at which the rogue state's nuclear program was going to be the main topic of conversation.
April 8: CNN reports that the Carl Vinson, which has just left Singapore, has been ordered to cancel planned port visits in Australia and head to the Western Pacific, "near the Korean peninsula" instead. A spokesman for the U.S. Pacific Command describes this as "a prudent measure to maintain readiness and presence in the Western Pacific." He goes on: "The number one threat in the region continues to be North Korea, due to its reckless, irresponsible, and destabilizing program of missile tests and pursuit of a nuclear weapons capability." The move is widely interpreted as a show of force following the North Korean missile test.
April 9: National security adviser H.R. McMaster is asked about redirecting the strike group on Fox News Sunday, and says, "It's prudent to do it, isn't it? North Korea has been engaged in a pattern of provocative behavior. This is a rogue regime that is now a nuclear-capable regime." He says that the president has asked for a "full range of options" to deal with the North Korean threat.
April 11: Defense Secretary James Mattis says at a press briefing that there was no particular reason why the fleet was redirected. "There's not a specific demand signal or specific reason we're sending her up there," he says. "She's stationed in the Western Pacific for a reason. She operates freely up and down the Pacific and she's on her way up there because that's where we thought it was most prudent to have her at this time."
That same day at the White House, spokesman Sean Spicer is asked by a reporter about why the Carl Vinson is "sort of steaming out toward the Sea of Japan," and whether this should be interpreted as a message. He replies:
A carrier group is several things. The forward deployment is deterrence, presence. It's prudent. But it does a lot of things. It ensures our—we have the strategic capabilities, and it gives the President options in the region. But I think when you see a carrier group steaming into an area like that, the forward presence of that is clearly, through almost every instance, a huge deterrence. So I think it serves multiple capabilities.
"We are sending an armada, very powerful. We have submarines, very powerful, far more powerful than the aircraft carrier…We have the best military people on Earth. And I will say this: [Kim Jong Un] is doing the wrong thing."
April 13: NBC News reports that the U.S. is preparing to launch a pre-emptive strike on North Korea if it believes another nuclear test is imminent. There is widespread speculation that this test could come on Saturday, the birthday of North Korea's founder Kim Il-sung and a national holiday in the country. The story notes that missile destroyers have been placed in the region, and that "earlier this week, the Pentagon announced that the USS Carl Vinson aircraft carrier strike group was being diverted to the area." The White House denied the NBC report.

April 17: The U.S. Navy posts a photo, above, of the Carl Vinson passing through the Sunda Strait, between the Indonesian islands of Sumatra and Java, two days earlier, on Saturday. As Defense News noted, this would place it about 3,500 miles from Korea. The site reported:
Off the record, several officials expressed wonderment at the persistent reports that the Vinson was already nearing Korea. "We've made no such statement," said one official.
For reference, here are the locations of Singapore, where the strike group was on April 8; the Sunda Strait, where it was on Saturday; and North Korea:
April 18: The Times, following on Defense News, reports that while all eyes were on North Korea on Saturday, the Carl Vinson and its strike force were "sailing in the opposite direction, to take part in joint exercises with the Australian Navy in the Indian Ocean." The White House tells the Times that they were "relying on guidance from the Defense Department."
Officials there described a glitch-ridden sequence of events, from a premature announcement of the deployment by the military's Pacific Command to an erroneous explanation by Defense Secretary Jim Mattis — all of which perpetuated the false narrative that an American armada was racing toward the waters off North Korea.
It seems like this was a case of the Pentagon not communicating very clearly (Did the strike group's orders actually change on April 8? If so, where was it actually headed?), the media getting a bit overexcited, and the White House just taking a narrative it liked and running with it.
Anyway, this is all very amusing. It sure is a good thing North Korea didn't take the reports as an indication it was about to be attacked and decide to launch nuclear weapons at South Korea first.