Trump Is OK With Calling Ivanka a "Piece of Ass" and Other Horrible Things He Told Howard Stern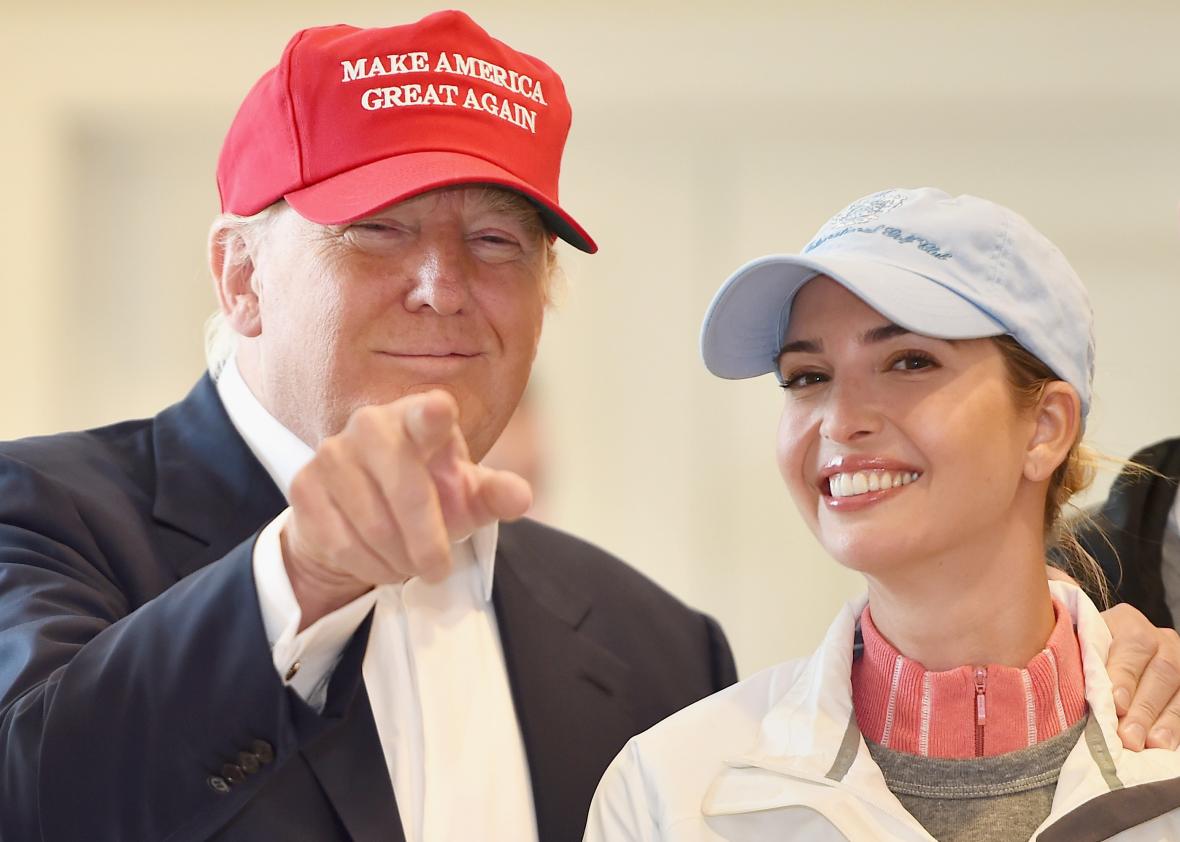 The day keeps getting worse and worse for Donald Trump. Just as Republican leaders are tripping over themselves to condemn their party's candidate, CNN has released several new excerpts from 17 years of Trump's appearances on Howard Stern's radio shows in which he talks about women—including his own daughter—in crude and demeaning ways. Plus he seems to pretty much admit and boast about potentially criminal behavior toward women (sound familiar?).
They're all shocking, but here are some of the highlights:
1. Sure, objectify my daughter. In October 2006, Stern told Trump that his daughter Ivanka "looks more voluptuous than ever" but he corrected him: "She's actually always been very voluptuous." And then Stern basically baits Trump into giving him the OK to call his daughter "a piece of ass."
Trump: "My daughter is beautiful."
Stern: "By the way, your daughter…"
Trump: "She's beautiful."
Stern: "Can I say this? A piece of ass."
Trump: "Yeah."
2. Boasting about sexual harassment and (potentially!) assault. In another interview, Trump made it clear he has no problem in using his position of power to sleep with women. Co-host Robin Quivers asked Trump if it wasn't a conflict of interest to sleep with pageant contestants. "It could be a conflict of interest," Trump said. "But, you know, it's the kind of thing you worry about later, you tend to think about the conflict a little bit later on."
He then went on to talk about sneaking in to see women naked as if he were an excited 13-year-old boy.
"Well, I'll tell you the funniest is that before a show, I'll go backstage and everyone's getting dressed, and everything else, and you know, no men are anywhere, and I'm allowed to go in because I'm the owner of the pageant and therefore I'm inspecting it," Trump said. "You know, I'm inspecting because I want to make sure that everything is good."
As Melissa McEwan pointed out on Twitter, that is still workplace harassment and "criminal behavior" toward women even if in some jurisdictions it could "only amount to a lewd conduct charge."
3. Trump admits to infidelity. During one conversation, Trump was very shocked that Stern told him he was faithful to his wife. "I was actually faithful to my wife for many years, until I realized the marriage wasn't gonna work," Trump said.
4. He's proud of being selfish in bed. During a conversation in 1993, Stern said that unlike his rich friends who cannot get dates, Trump actually satisfies the women he is with sexually. "And I couldn't care less," Trump replies.
5. He mocks those who think beauty pageants should be anything but a looks contest. At one point in an interview, Trump disparagingly mentioned how when he got into the peagant world, "They were starting to take women who were educated over women who were hot." He proudly says he "wasn't interested" when someone boasted "that a number of the women had become doctors."
6. No oldies. In a 2002 interview, Trump said 30 was the "perfect age" and then when someone interrupts by saying "until she's 35" Trump agrees: "What is it at 35, Howard? It's called check-out time."