Trump Was Recorded in 2005 Bragging About Grabbing Women "by the Pussy"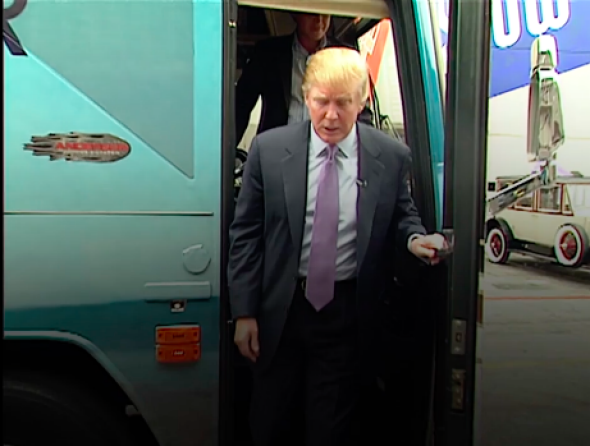 The Washington Post has obtained an extremely crass recording, above, on which Donald Trump converses with Access Hollywood host Billy Bush about women aboard a bus on the set of Days of Our Lives. Among the things Trump says:
"I moved on her like a bitch, but I couldn't get there, and she was married. Then all of a sudden I see her, she's now got the big phony tits and everything." (It's not clear who Trump was talking about.)
"I'm automatically attracted to beautiful [women]—I just start kissing them. It's like a magnet. Just kiss. I don't even wait. And when you're a star they let you do it. You can do anything ... Grab them by the pussy. You can do anything."
Trump and Bush remark on the attractiveness of Days of Our Lives actress Arianne Zucker while she's waiting outside the bus. When they exit the bus, Bush asks Zucker to give both of them hugs. (Watch the video. It's gross.)
Said Trump to the Post: "This was locker room banter, a private conversation that took place many years ago. Bill Clinton has said far worse to me on the golf course—not even close. I apologize if anyone was offended."