The Donald Trump Deposition Video Live Blog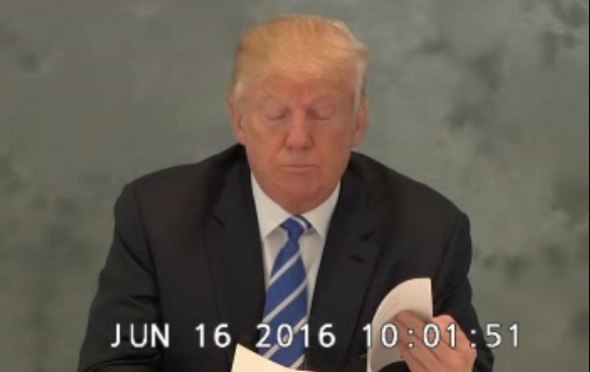 A Washington, D.C., judge on Friday released video of Donald Trump testifying under oath in connection with a lawsuit he filed last year after chef Geoffrey Zakarian pulled out of a deal to open a restaurant in Trump's new luxury hotel at the site of the Old Post Office building in the nation's capital. Zakarian says he made that decision after Trump launched his presidential campaign by making offensive remarks about Mexicans and other Latinos.
Transcripts of Trump's testimony have already been made public, but D.C. Superior Court Judge Brian Holeman agreed this week to a request from a number of media outlets that the videos themselves be released. Since it's a Friday afternoon and they have nothing better to do, Slate's Jim Newell and Josh Voorhees are watching all 100-odd minutes of the action and live-blogging it below.
The video—should you choose to follow along—is embedded here: