This Week's Conservative Pundit Tracker: Trump's Mexican Adventure Edition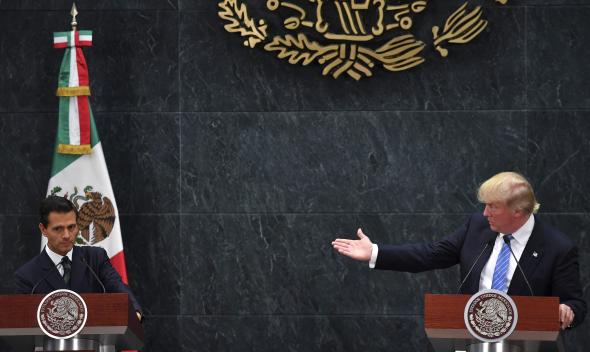 Each week we're publishing a new chart showing where our group of 25 right-wing pundits stand on the question of Trump, and you'll be able to look back at past weeks to see if minds are changing. Our categories are "Voting Trump," "Voting Clinton," "Not Voting," "Someone Else," and "Inscrutable." Someone else means either a third party candidate or a write-in. Inscrutable includes pundits who have voiced opposition to both Trump and Clinton, but are otherwise undecided, and those who are sharply critical of Trump but haven't stated a preferred alternative. Click on a pundit's head to see what he or she has said about the election this week. (If someone doesn't write or speak or tweet—crazy, but possible—in a given week, we'll assume they are "thinking…" Also: We are scouring the internet obsessively, but it's a big place and it's possible someone will say something that we miss. We are confident you'll let us know in comments if so!)
Will the Inscrutables pull it together come November? Will anyone else jump on the Hillary train? Will more pundits coalesce around a third-party candidate? Or will everyone eventually fall into line for Trump between now and Election Day? Keep an eye on this weekly tracker to find out.
The announcement came so quickly and was such a surprise that—like so many other happenings in the Trump campaign—it left pundits scratching their heads. Donald Trump was going to Mexico?
That is precisely what the GOP nominee announced at 10:30 on Tuesday night. For a trip on Wednesday. But despite thej ourney's last-minute nature and the headaches that meant for the traveling press (who got left behind), Trump's appearance with Mexican President Enrique Pena Nieto earned him some grudging respect from his harshest critics.
The Daily Wire's Ben Shapiro, a solid Never Trump-er, declared it "the smartest move of the Trump campaign so far" and Charles Krauthammer said in an appearance on Fox News that Trump "took a risk and pulled it off."
Of course, Trump followed that appearance—where he called Nieto a "friend" and was described by the Washington Post as "subdued and cooperative"—with a speech in Phoenix where he said anyone here illegally was "subject to deportation," promised that Mexico would pay for the "impenetrable, physical, tall, powerful, beautiful wall," and suggested he'd only allow immigrants who vowed to "love us."
If that weren't a sign that Trump was back to business as usual, Mexico's President Nieto also said later that he told Trump during their meeting that Mexico would not be paying for any wall.
Commentary's John Podhoretz summed it up best
We're doing it. We're discussing Mexico paying for the wall. We're lost. Our political culture is dead.

— John Podhoretz (@jpodhoretz) September 1, 2016
No movement this week. On to the tracker.