Twitter Exonerated This "Suspect" in the Dallas Shooting. Why Didn't the Police Clear His Name?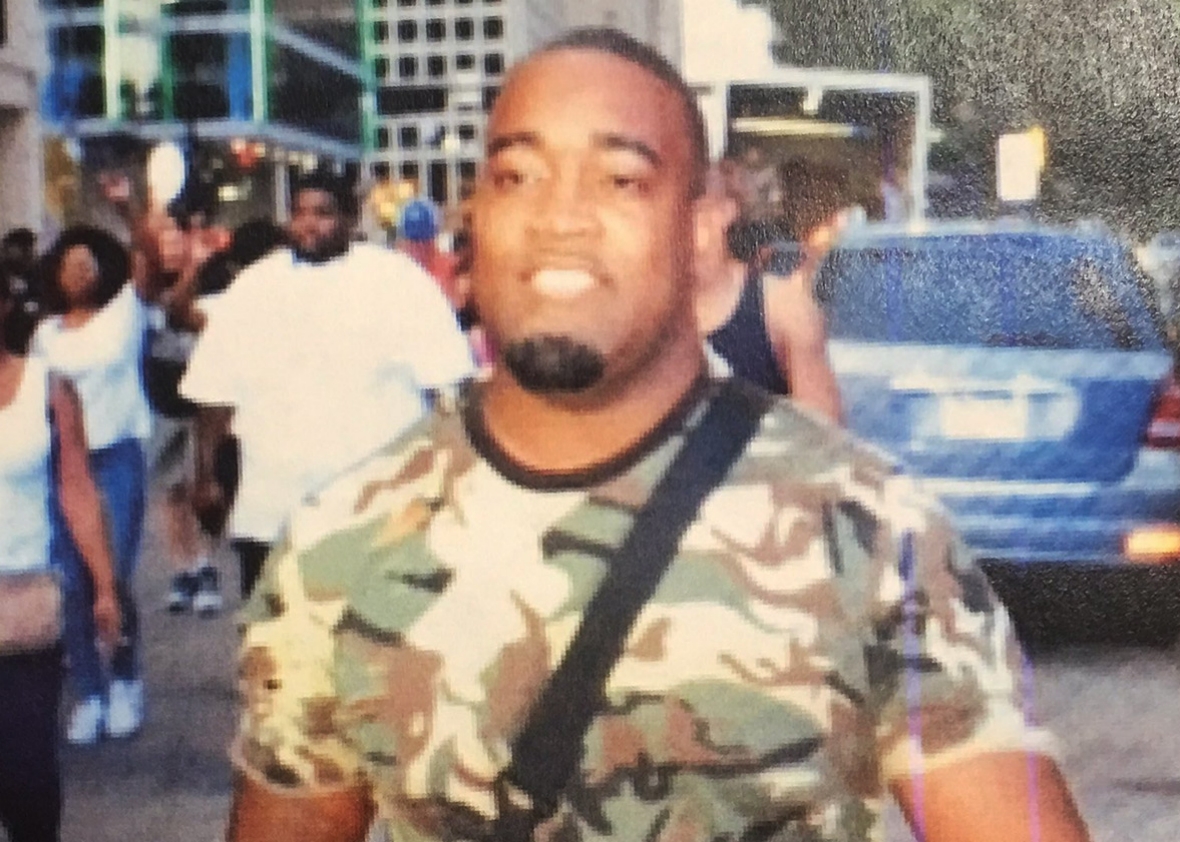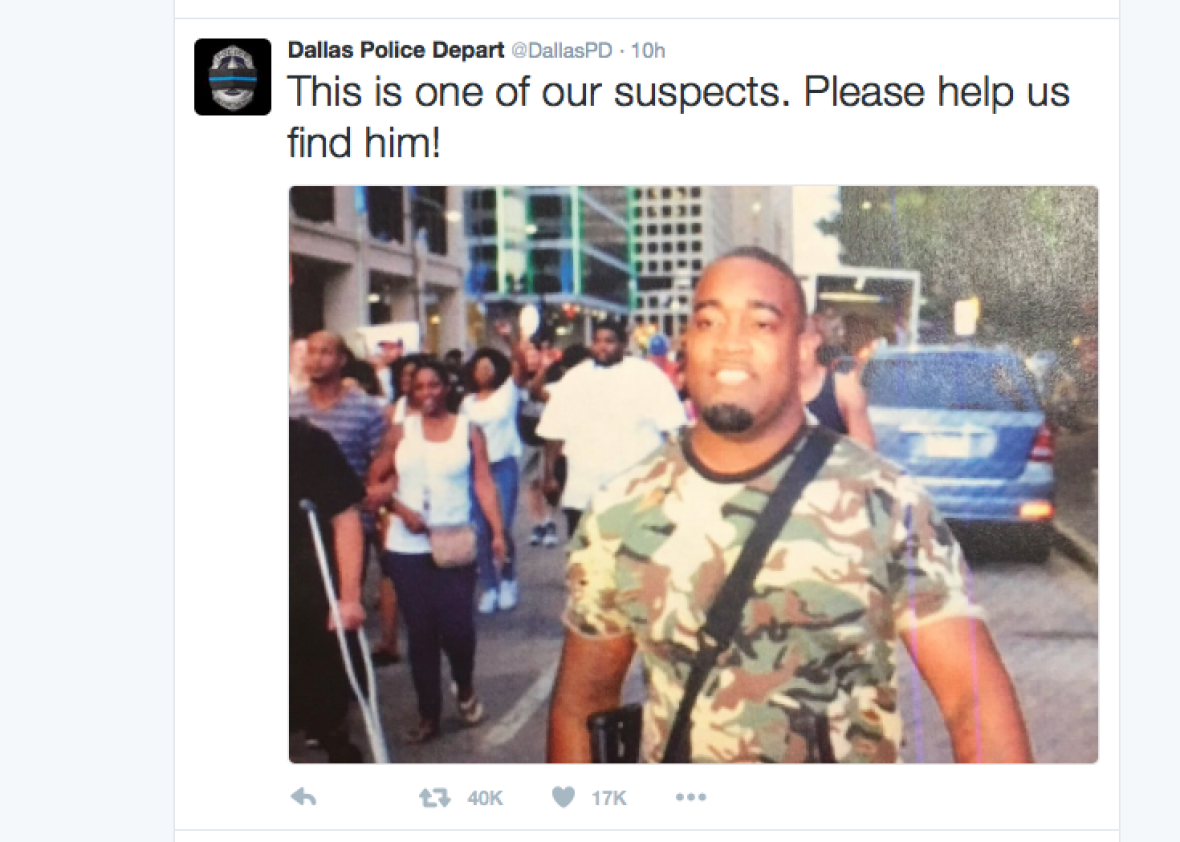 Update, July 8, 2016, at 5:40 p.m.: A Dallas Police Department tweet that misidentified Mark Hughes as a suspect in the Dallas shootings appeared finally to have been removed from Twitter as of 5 p.m. Friday, some 17 hours after it was posted. The department still has not published a tweet correcting the information, nor has it issued any other official statement to clear his name, other than a tweet from a public information officer's individual account early Friday morning.

Original post: One tweet put Mark Hughes' life in danger Thursday night, and probably changed it forever—even though, within minutes, a slew of others had essentially exonerated him.
The tweet came from the Dallas Police Department at 12:52 a.m. ET. It included a photo of a man who was quickly identified as Hughes, the brother of Black Lives Matter protest organizer Cory Hughes, clad in a camouflage shirt and toting a rifle. It called him a "suspect" in the ambush on police and implored the public to help authorities find him.
The call was quickly picked up by media outlets around the country, and the tweet was retweeted nearly 40,000 times as the public braced for a manhunt and began digging for personal details about America's newest villain.
This was all unknown to Hughes, until he got a phone call from a friend informing him that he had been linked to the shooting. He told the local CBS affiliate that he went straight to the police to clear things up, and he was laughing and joking with officers about the misunderstanding even as the national media were broadcasting his photo. Cory Hughes added that his brother had decided to hand over his firearm—which was not loaded and which he was carrying legally under Texas' open-carry laws—to authorities as soon as the gunplay began.
"When the shots started firing, I approached the cops," Cory Hughes said. "I went to them, and I told my brother, 'Give your gun to this cop, because we don't want an accident. We don't want them to come around a corner and see your gun and start shooting at you.' "
Meanwhile, fellow demonstrators were already posting photos and videos on Facebook and Twitter that showed Mark Hughes marching peacefully alongside others when the gunshots rang out. Within 30 minutes of the Dallas PD's tweet, it was evident to anyone closely following Twitter that Hughes was innocent.
Yet what Hughes thought was a simple misunderstanding quickly escalated into an ordeal that is not likely to end anytime soon. CNN and other news outlets were still running with the "suspect" narrative even after Twitter had essentially exonerated him. And Hughes told CBS he was taken in for a 30-minute police interrogation in which officers claimed to have videos and witnesses that proved he had fired shots.
Afterward, it dawned on Hughes that he had been in grave danger without realizing it. "Hindsight 20/20, I could have easily been shot," he said. And when authorities declined to publicly declare him innocent following his interrogation, his shock at being presented to the world as a mass-shooting suspect on the loose began to turn to anger. Here's the full video of Mark Hughes' and Cory Hughes' interview with Dallas CBS affiliate KTVT.
No doubt Hughes would have been safer had he not decided to wear camouflage and bring an assault rifle to a protest against police violence. Yet he was exercising his legal rights under Texas' open-carry laws, as other Texans do every day—yes, even at protests.
The Dallas PD's rash decision to tweet a photo of him and call him a "suspect"—rather than, say, a "person of interest"—is perhaps forgivable under the circumstances. After all, the police were under attack, and their lives were on the line. They, and not Hughes, were the primary victims of Thursday's massacre, and they fully deserve the public's sympathy and support in its wake.
Even so, it's fair to ask why authorities were so quick to finger Hughes, without evidence, as a likely suspect in the shooting—and to present him to the world as such. Some will no doubt wonder whether they would have homed in on a white man quite so definitively—or dismissed him so cavalierly once it was obvious he was innocent. It's hard not to suspect—even while recognizing the suffering of Dallas police officers and appreciating their sacrifice—that this was another case in which a man's race affected his treatment by the police.
In a news conference Friday, Hughes' lawyer called the tweet "negligent" and said the brothers had received "thousands of death threats" as a result. As of Friday morning, Hughes was holed up in "a safe location," facing his future as a man who will be indelibly linked to a mass killing.
It has become routine to blame social media sites for facilitating the spread of misinformation amid breaking news events. Reddit, for instance, was roundly chastised for its users' amateur sleuthing after they mistakenly linked a young man named Sunil Tripathi to the Boston Marathon bombing in 2013. It would be a stretch, however, to blame Twitter for what happened to Hughes. The Dallas PD has plenty of other megaphones at its disposal, and could have gotten his face out to the public nearly as quickly the old-fashioned way, by providing it to the media.
If anything, in this case, Hughes might have social media to thank for helping to clear his name so rapidly. That could have taken much longer without a platform for his fellow protesters to immediately broadcast evidence of his innocence. The longer it took, the longer he would have been at risk.
Yet it isn't quite that simple. A social media platform can be only as good as its users, and there will be plenty on Twitter and elsewhere who continue circulating Hughes' name and face in connection with the Dallas killing. One of those users, surprisingly, is the Dallas Police Department itself: As of 1:30 p.m. ET on Friday, more than 12 hours after the shootings, the department was tweeting images and video from memorial events for the fallen officers—yet the tweet in which it falsely fingered Hughes still stood.
UPDATE, July 8, 2016: As of 3:45 p.m. on Friday, the Dallas PD's official Twitter account still has not deleted the tweet, nor has it issued any further tweets clearing Hughes' name. The department also has not responded to Slate's request for comment on Hughes' status. However, it's worth clarifying that the department has in fact ruled him out as a suspect, albeit rather quietly. A public information officer for the department tweeted at 4:17 a.m. Friday from her individual account that the man in the photo had been interviewed and released, and was "not a suspect/person of interest." This post's headline has been changed to avoid confusion as to whether Hughes is still under police suspicion. Once again: He isn't.

CORRECTION, July 8, 2016: This post originally misspelled the first name of Mark Hughes' brother, Cory Hughes.