Five Police Officers Killed in Attack at Dallas Protest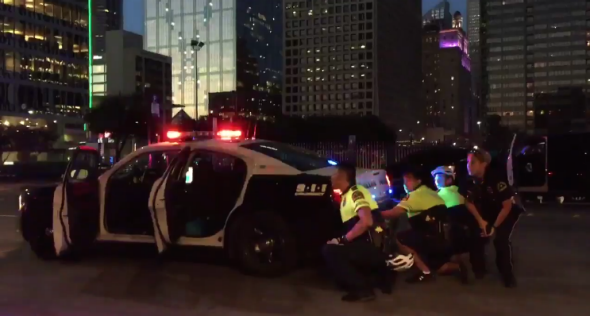 What we know about the events of Thursday night and Friday morning:
At least 12 police officers and two civilians were shot in downtown Dallas when heavy gunfire erupted at what had seemed to be a mutually respectful protest related to the deaths of Alton Sterling and Philando Castile. Five of the officers have died.
Four suspects in the attack were identified by Dallas police; one died after being cornered by police for several hours in a parking garage, one (a woman) was taken into custody nearby, and two were taken into custody after police stopped their car. The attack seems to have been premeditated and coordinated.
A suspected shooter has been identified by law enforcement as Micah Xavier Johnson. According to police, the suspect was killed in a standoff with police during which he "stated he wanted to kill white people, especially white officers."
Final update, 1:40 a.m.: Dallas police chief David Brown said moments ago at a press conference that police are engaged in negotiations and have exchanged fire with a hostile suspect in a downtown parking garage. He said a female suspect in the area of the garage and two other suspects who were seen with camouflage bags in a Mercedes have been taken into custody and that all four individuals are believed to have worked together. He also said that it's not clear that everyone involved in the attack has been identified.
Update, 12:35 a.m.: Dallas police say that a suspect in Thursday night's attack became involved in a shootout with SWAT officers and is now in custody.
Update, 12:21 a.m.: We've removed the picture that was below of a man who Dallas police say is a suspect; multiple reports indicate that the individual in question was among protesters on street level (and was not firing a weapon) when tonight's shooting began.
Update; 12:16 a.m.: A fourth officer has died, Dallas police say.
Update, 12:05 p.m.: Chief Brown believes "at least two snipers" were involved in an "ambush-style" attack tonight. A total of 11 officers were shot, he says. One suspect is believed to be "cornered" by officers who are currently engaged in negotiations with him.
Update, 11:40 p.m.: A brief statement from Dallas police chief David Brown says ten officers have been shot and that three of them were killed.
Video from the scene captures what seems to be a double-digit number of shots being fired:
This post is being updated as new information becomes available.