Obama Blasts Trump at Rutgers University: "Ignorance Is Not a Virtue"
President Obama gave a commencement address at Rutgers University that sounded an awful lot like a campaign speech. He never directly named the presumptive Republican nominee for president, but there was little doubt about who he was referring to during several points of the 45-minute speech in which he called on students to be skeptical of politicians who talk of a great past and criticized the idea of building a wall on the border.
"In politics and in life, ignorance is not a virtue," Obama told a crowd of more than 50,000 people in New Brunswick, New Jersey. "It's not cool to not know what you're talking about. That's not keeping it real or telling it like it is. That's not challenging political correctness. That's just not knowing what you're talking about. And yet we've become confused about this."
In a one-two punch, the president also mocked the idea of building a wall on the border and banning a whole religion from entering the country. "The world is more interconnected than ever before, and it's becoming more connected every day. Building walls won't change that," Obama said. "Isolating or disparaging Muslims, suggesting they should be treated differently when they come to this country, that is not just a betrayal of our values—that's not just a betrayal of who we are—we alienate the very communities at home or abroad who are our most important partners in the fight against violent extremism."
Obama also told graduates that "when you hear someone longing for the good old days, take it with a grain of salt" in what sounded like a meticulous takedown of Trump's "Make America Great Again" campaign motto. "I guess it's part of human nature—especially in times of change and uncertainty—to want to look backward and long for some imaginary past when everything worked, and the economy hummed and all politicians were wise and every child was well-mannered and America pretty much did whatever it wanted around the world," Obama said. "Guess what? It ain't so. The good old days weren't all that good."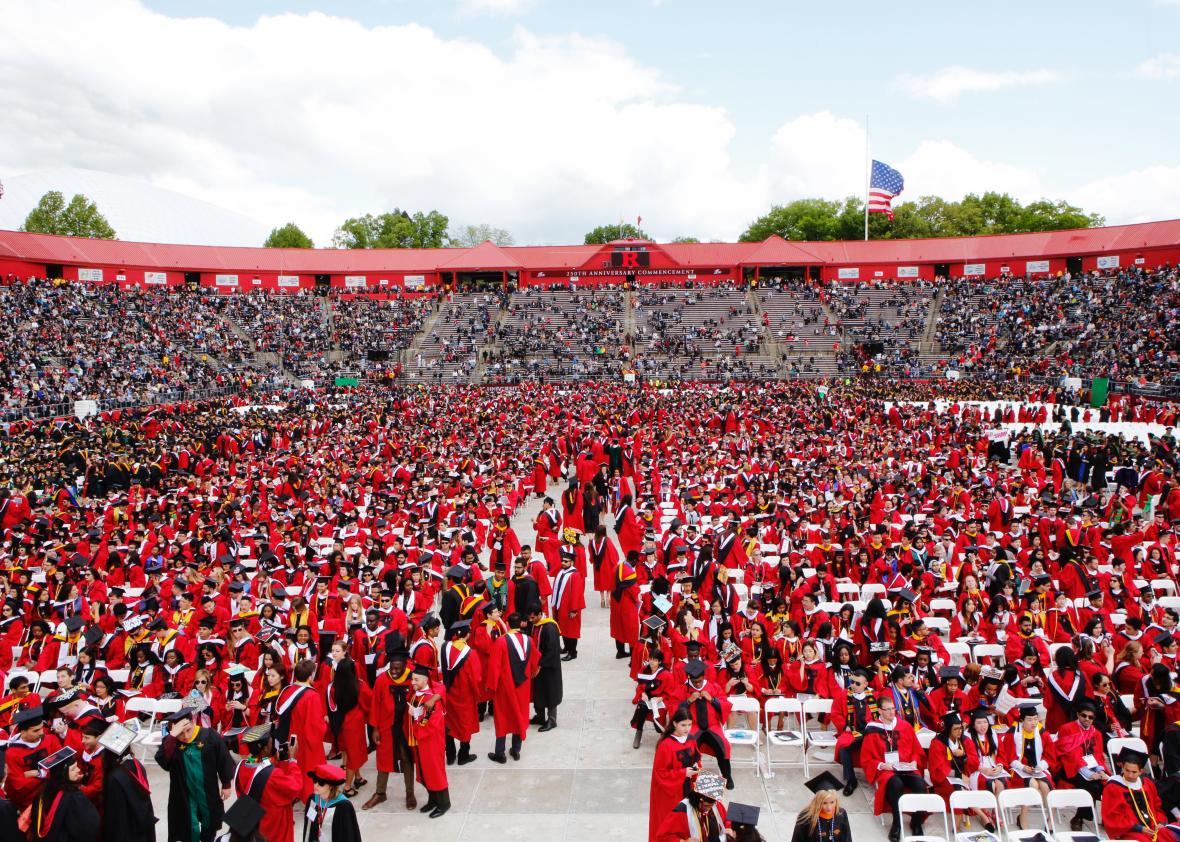 With his commencement speech, Obama became the first sitting president to speak at Rutgers University, which had embarked on a three-year campaign to get him there. On Sunday, Obama said what helped seal the deal was a series of letters he received from the grandmother of Rutgers' student body president. "That was smart because I have a soft spot for grandmoms," Obama said. The Rutgers speech was the second of three commencement speeches Obama will deliver this year. Obama spoke at Howard University earlier this month and will speak at the Air Force Academy in Colorado Springs on June 2.