Wow, Larry Wilmore Really Flopped at the White House Correspondents' Dinner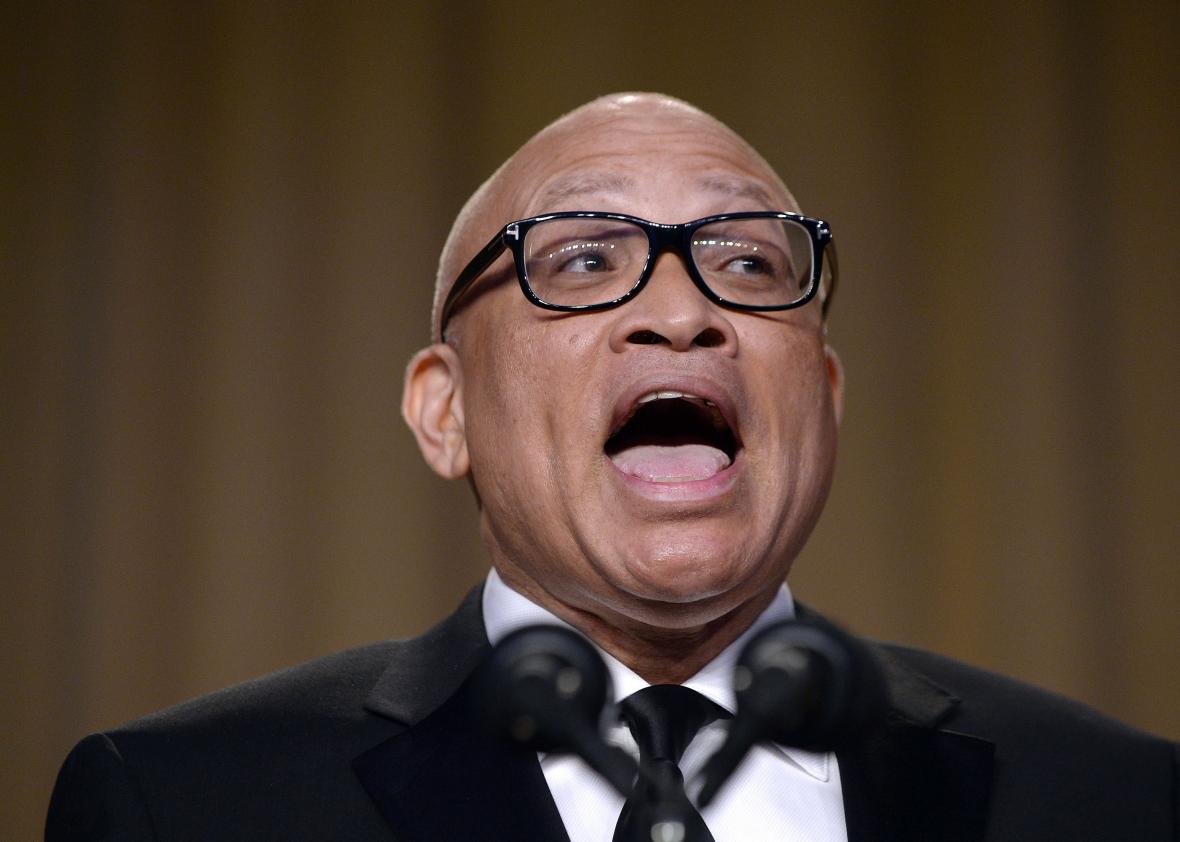 Yes, it's never easy to follow the president. But boy did Larry Wilmore miss the mark on Saturday night at the annual White House Correspondents' Dinner. The vast majority of his jokes fell flat in a room that seemed to be groaning more often than smiling. Beyond a joke here and there, the whole monologue was really boring. A full 10 minutes could have easily been chopped from the whole thing and nothing would have changed.
It ultimately seems Wilmore wanted to pull a Stephen Colbert, speaking truth to power. Problem is, he never really found his rhythm. Part of the problem may have been that the obviously cool reception that his jokes received seems to have knocked him off his game a bit. "You guys are tough, man," Wilmore said at one point.
Wilmore did manage to utter one brutal zinger against Obama that all in all wasn't too bad. "It looks like you're really enjoying your last year of the presidency. I saw you hanging out with NBA players like Steph Curry," Wilmore said. "It kind of makes sense too because both of you like raining down bombs on people from long distances."
Wilmore also suffered because many of his jokes were about Obama's age. Some weren't bad, but the president himself made jokes about that earlier, so it just seemed repetitive. "Look at you. Your hair is so white it tried to punch me at a Trump rally," Wilmore said.
The comedian really laid into the media, but, once again, fell flat almost every time. There were a few exceptions, including "MSNBC got rid of so many black people I thought Boko Haram was running that network." He also targeted specific journalists. "I should say, some of our finest black journalists are here tonight. Don Lemon is here too." That got him a middle finger from Lemon.
Wilmore did manage to turn it around in the end a bit, when he spoke emotionally about what it meant for him as an black American that a black man had been president for eight years. "When I was a kid, I lived in a country where people couldn't accept a black quarterback. Now think about that. A black man was thought by his mere color not good enough to lead a football team. And now to live in your time, Mr. President, when a black man can lead the entire free world," Wilmore said.
And then he turned to Obama: "Yo Barry, you did it my nigga."