War Zone Hospitals Are Being Targeted at an Alarming Rate.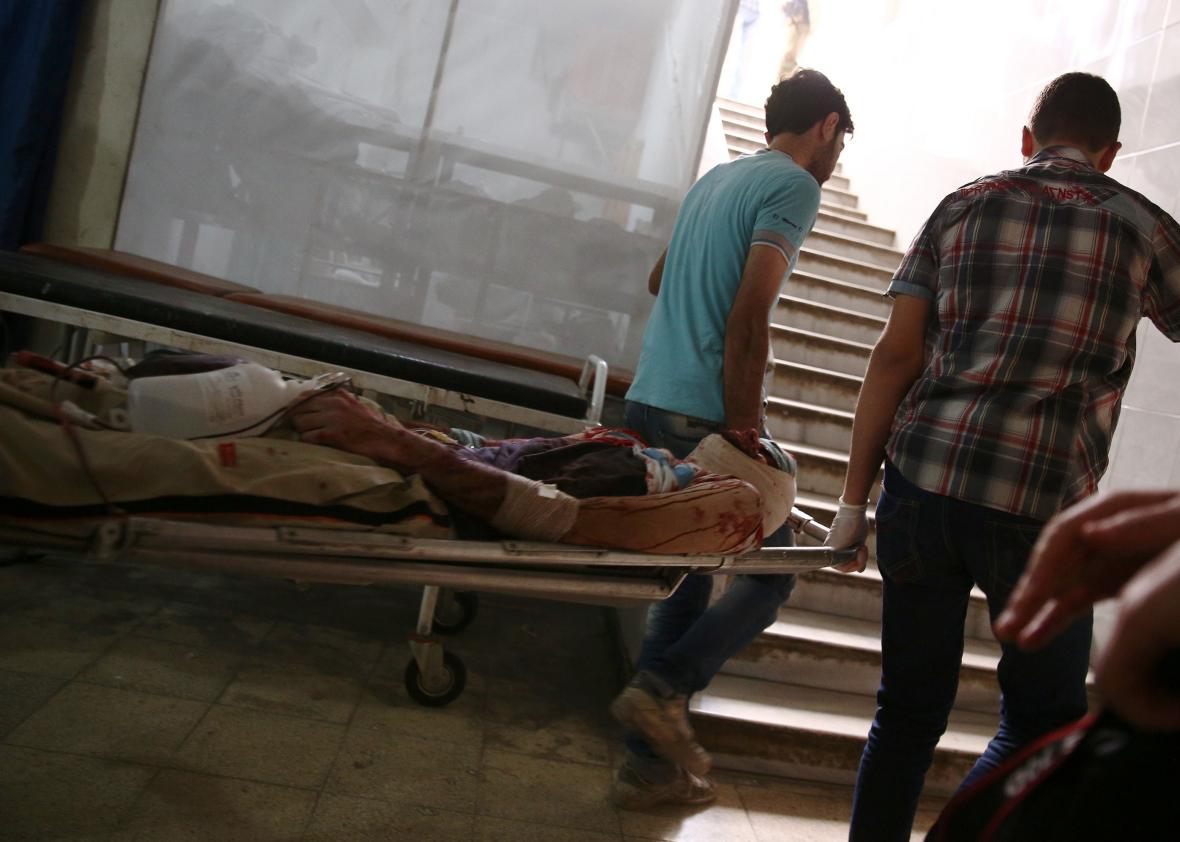 A hospital supported by Doctors Without Borders was partially destroyed near the northern Syrian city of Homs last Saturday in what appeared to be one of the Syrian military's signature barrel bombings. The strike was a so-called "double-tap" in which a first bombing is followed by a second one several hours later after rescue personnel have arrived on scene. Seven people were killed, including a young girl, and 47 injured.
It's been a brutal few months for the organization, often referred to by its French acronym MSF, which supports health facilities in some of the world's most dangerous conflict areas. On Oct. 3, a U.S. airstrike destroyed an MSF hospital near Kunduz, Afghanistan. The U.S. military says it was not targeting the hospital and is now blaming the incident on "avoidable human error, compounded by process and equipment failures," but MSF is still calling for an international investigation and the strike may still have been illegal if the commanders did not take "all feasible precautions" to avoid civilian deaths. This was followed by a bombing of an MSF hospital in Northern Yemen by Saudi warplanes on Oct. 27. Incredibly, there were no casualties. In Afghanistan and Yemen, MSF had informed the militaries operating in the region of their location.*
The strikes on the Nobel Peace Prize-winning organization's facilities have garnered the most publicity, but attacks overall on hospitals and health clinics have become alarmingly common in these conflicts. Physicians for Human Rights has documented 329 attacks on medical facilities in Syria since the beginning of the conflict. ISIS, the U.S.-led coalition, and anti-Assad rebel groups have all been responsible for some attacks, but the majority have been airstrikes by the Syrian government.
"When we started doing the research, we assumed that these strikes would mostly be a result of inadequate protection for civilians," says Widney Brown, director of programs at PHR. "But the more we delved into the evidence, we started realizing that it was a strategy of the Assad government and now Russia." October was the worst month for hospitals since the conflict in Syria began, with 16 total attacks, ten of them by Russian warplanes.
From Yugoslavia to Gaza, there have certainly been abundant examples of hospital bombings, but the Assad regime and its allies' campaign seems unusually systematic and deliberate. "Unprecedented does seem like a fair word to use," MSF spokesman Tim Shenk wrote in an e-mail to Slate. A statement provided by the organization noted that "the Bashar al-Assad government has made clear to their population that the government will consider any person opposed to their authority as a terrorist, including those who are not taking part in the hostilities. They also made clear that all assistance provided without their consent to the population living in opposition-controlled areas will be considered a legitimate target."
Why attack hospitals? Whether employing barrel bombs and chemical weapons or targeting bread lines and schools, attacks on civilians have been a deliberate tactic rather than an unfortunate byproduct of the Assad regime's war. To that end, Brown notes that destroying health infrastructure is "a very effective if patently illegal tactic" because "you're going to have high civilian casualties that aren't even the direct result of attacks." For example: A recent PHR report found that in the city of Aleppo, which has seen heavy fighting between the Assad regime, rebel groups, and ISIS, less than a third of hospitals are still functioning and 95 percent of doctors have fled. Syria's largest city no longer has a single working MRI machine. MSF calls this process of attacking hospitals in order to push civilian services out "medical desertification," noting that even medical personnel who are still tending to the most wounded in conflict areas are often forced to "operate in bathrooms, in caves and in other hidden places."
As for MSF, most of its operations in Syria had been limited to the northern area near the Turkish border, which is mostly out of the regime's control, but now even that area has been squeezed by the emergence of ISIS, which has also carried out attacks on medical personnel. Half of the facilities supported by the organization have experienced bombardments, some of them several times.
Organizations including PHR, MSF and the Red Cross say there is also a deliberate targeting of health facilities in Yemen, where a Saudi-led coalition began airstrikes aimed at pushing back Shiite Houthi rebels in March. The Red Cross says there have been close to 100 such incidents since airstrikes began in March. "The Saudi airstrikes are doing in Yemen just what the Syrian air force is doing in Syria," says Brown, who notes that the devastation in Yemen has been even more damaging, as the country had a far less developed healthcare system than Syria before the fighting began. The U.S. government has supported the Saudi airstrikes, while ducking responsibility for the heavy number of civilian casualties they have caused. (Update, Dec. 3, 2015: MSF reports that an airstrike by the Saudi-led coalition hit another hospital in Yemen on Dec. 2, this one in the southern city of Taiz. Nine people were wounded.)
Today's wars predominantly take place in settings with unclear and shifting battle lines between irregular groups that may not consider aid workers, journalists or medical personnel off limits. Still, the recent attacks on hospitals can't solely be chalked up to these factors. The deliberate targeting of health facilities is unusual, as was the shocking, if not criminal negligence of U.S. forces in Kunduz. As France steps up its airstrikes in Syria, and Britain is likely to do the same, the risks won't diminish in the short term at least. While these countries will presumably refrain from deliberately targeting health facilities, Brown notes that "when you have multiple actors, the chances for miscommunication increases."
With local healthcare systems devastated and international organizations like MSF prevented from filling in the gaps, these wars are only getting deadlier for civilians.
*Correction, Dec. 2, 2015: This post originally stated that MSF had given the Syrian government the location of the hospital that was bombed near Homs. This was done in the case of Afghanistan and Yemen but not Syria.