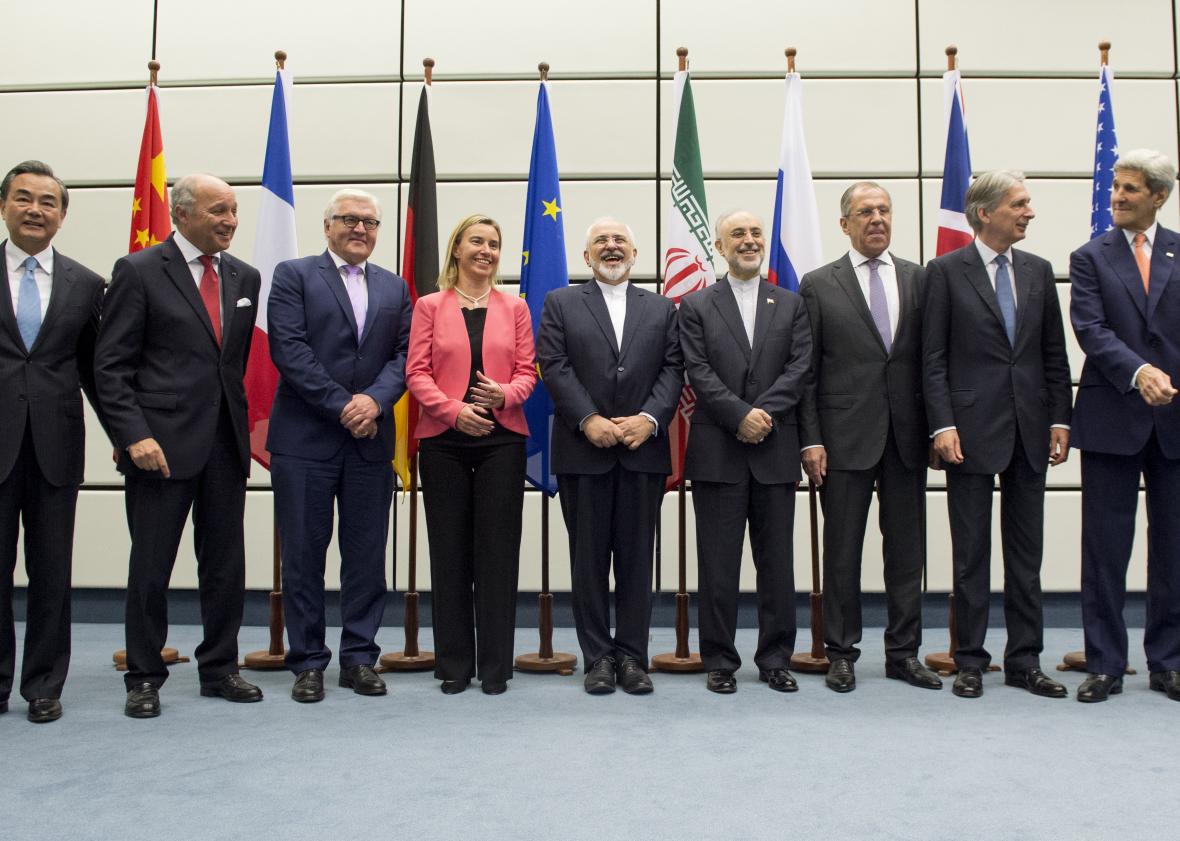 After nearly two years of negotiations, Iran and a group of six world powers have reached a historic deal to limit the country's nuclear program in exchange for sanctions relief. The final details will be announced this morning, but negotiators say the outstanding issues—including the amount of nuclear material Iran may enrich, the level of access for international monitors to Iranian nuclear sites, and the pace of sanctions relief—have been resolved.
The final issue on the table Monday, nearly two weeks past the original deadline, appears to have been how long an embargo on conventional arms will remain in place. Under the final deal, a U.N. weapons embargo will remain in place for five years and a ban on Iran buying missile technology for eight.
Reaching the deal has been a major political goal of President Barack Obama, who came into office pledging to normalize relations with America's traditional foes and has sold this deal as a way of stabilizing long-simmering tensions in the Middle East. It's also a huge step for Iranian President Hassan Rouhani, who has staked his presidency on winning international sanctions relief to improve his country's struggling economy. While it could take years for the full political ramifications of the deal to play out, the agreement is still the most important diplomatic breakthrough between the U.S. and Iran since the revolution and hostage crisis of 1979.
Not everyone is enthusiastic about the deal, which will leave much of Iran's nuclear infrastructure in place. Israeli Prime Minister Benjamin Netanyahu has already denounced the agreement as "a bad mistake of historic proportions" that will put Iran on "a sure path to nuclear weapons."
The deal is a political agreement rather than a legally binding treaty, which would require ratification by Congress. Nonetheless, under legislation signed in April, Congress will have 60 days to review the agreement, giving opponents a last chance to scuttle it.
Update, July 14, 2015, 7:00 a.m. The Russian government has posted what appears to be the full text of the deal:
Update, July 14, 2015, 7:30 a.m. In a televised statement from the White House, which significantly was also carried live on Iranian state television, President Obama with Vice President Joe Biden at his side began what could be the tough process of selling the deal to skeptics both in Washington and around the world. "We must continue to test whether this region which has known so much suffering, so much bloodshed, can move in a different direction," he said.
The president acknowledged that concerns remain about Iran's support for international terrorism and international terrorism, and that U.S. sanctions related to those issues would still remain in place, but argued that "you don't make deals with your friends" and that "an Iran armed with a nuclear weapon would be far more destabilizing and far more dangerous to our friends and to the world."
He thanked "members of congress who have put in place the sanctions that proved so effective" but vowed to "veto any legislation that prevents the successful implementation of this deal."
He also promised to continue security cooperation with Israel and the Gulf States, both of which have been highly skeptical that the deal will prevent Iran from obtaining a nuclear weapon.
Update, July 14, 2015, 8:20 a.m. On first glance, the final deal seems pretty close to what was described in the framework agreement reached last April. Iran is allowed to keep 5,060 centrifuges running at the facility at Natanz. The country will be allowed to keep 300 kilograms of uranium enriched to 3.67 percent for the next 15 years. This is not enough material to produce an atomic bomb and U.S. officials say that Iran's "breakout time"—the time necessary to produce enough material for a weapon—will be at least a year for the next decade. Any enriched uranium above that level will have to be diluted or shipped out of the country. The enrichment center at Fordow will be converted to a research center and no fissile material can be brought there.
The deal provides for 15 years of continuous monitoring of Iran's centrifuges by inspectors from the International Atomic Energy Agency and daily access for those inspectors to Natanz. Inspectors "may request access" to other facilities if there are concerns about undeclared nuclear material or activities.
If Iran is believed not to be complying with the agreement, states can file a complaint with an arbitration board comprised of the six powers, the EU and Iran, which will have 30 days to review it. The complaint can then be brought to the U.N. Security Council, which will have up to 35 days to decide to continue lifting sanctions, before they are reimposed. In total, this will allow international sanctions to be reapplied within 65 days if Iran found to be in violation.
As for the pace of sanctions relief, which has been a major sticking point between the two sides since April, the deal splits implementation into several key dates.
After today, "finalization day," the deal will be immediately submitted to the U.N. Security Council for approval. Ninety days after it is approved will be "adoption day," when all the parties will make legal arrangements for their commitments. (During this time, the U.S. Congress will have 60 days to review the deal.) "Implementation day" will occur when the IAEA verifies that Iran is meeting its commitments under the deal, at which point the U.S., EU and U.N. Security Council will lift a wide range of sanctions on the Iranian government as well as institutions and individuals related to the nuclear program. On "transition day," eight years after adoption day, if the IAEA concludes that all nuclear activity in Iran remains peaceful, the EU will terminate its sanctions and the U.S. will seek legislation to do the same. Ten years from now, if things are still going well, the U.N. Security Council resolution will expire.
The new agreement extends the U.N. Security Council ban on selling Iran sensitive nuclear equipment for ten years and will keep sanctions on missile technology in place for eight.