This Week's Geomagnetic Super Storm Was the Best in a Decade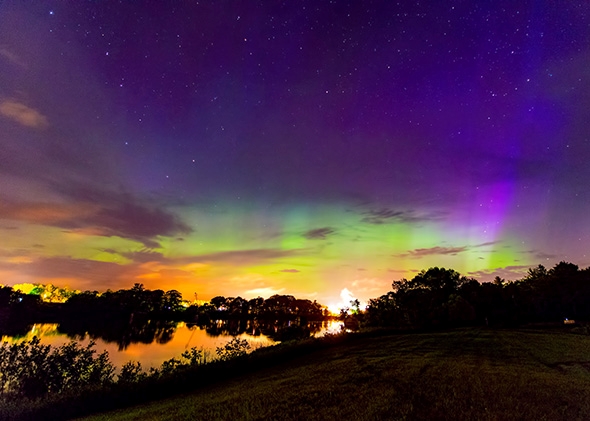 If you were lucky enough to venture outside and witness it, you know just how breathtaking Monday night's northern lights show was. The rest of us can give thanks for the invention of digital cameras and social media.
Northern lights were spotted as far south as Arizona, New Mexico, Texas, and Georgia and even in light-polluted urban areas like New York City. Stunning overhead displays were reported in places like Wyoming, Michigan, and Maine. A surge in the Earth's magnetic field around 1 a.m. EST early Tuesday morning coincided with the peak of the event—which made for nearly ideal viewing conditions in North America. By all accounts, this was an amazing show.
The person with perhaps the best view in all of North America was Ryan Knapp, a meteorologist at Mount Washington Observatory in New Hampshire, the tallest point in the Northeast. He described the storm for me in a single word: "magnetizing."
Woke up sleeping folks to see the trippy sky as I don't think anyone would've believed my descriptions. Speechless right now.

— Ryan Knapp (@WXKnapper) June 23, 2015
Using the disturbance storm time index, a measure of the severity of geomagnetic storms, Monday night's event registered at -251 nanoteslas at the USGS geomagnetic observatory in Honolulu, Hawaii—good enough to make it the most intense geomagnetic storm in the current 11-year solar cycle, and putting it just barely into "super storm" territory (the most severe category of geomagnetic storms).
Still, that's pretty small when compared to some of the biggest solar storms of the past few decades. The strongest geomagnetic storm since modern recordkeeping began was in March 1989, peaking at about -580 nanoteslas, when a power grid surge produced a blackout for six million people in Canada. The 1859 "Carrington event"—the biggest solar storm since the invention of electricity, estimated at a whopping -1760 nanoteslas—produced aurora worldwide, and channeled so much energy through telegraph wires that operators were able to send messages without batteries. Should an event like that happen today, it's estimated it would take months or even years to rebuild the global power grid, at a cost of trillions of dollars. That's why studying space weather is so important—with better predictive models, Earth could hunker down should the big one come barreling our way.
Another northern lights show is possible later this week, but chances are it won't match up to Monday's show. Still, it's still worth follow along on Twitter, and then heading outside if things look promising.