Bernie-Mentum Is Real. Hillary Has No Reason to Worry.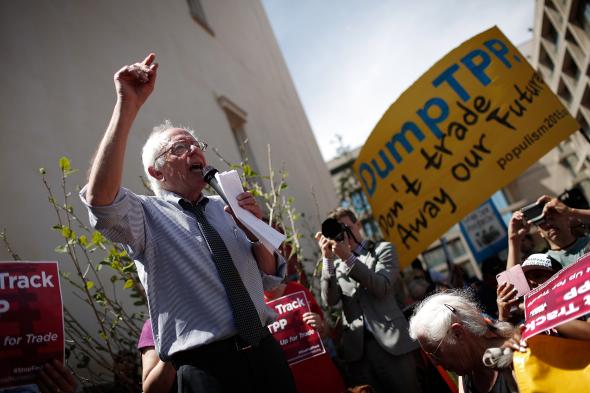 All of a sudden, Bernie Sanders is the hottest ticket on the campaign trail. Last Wednesday the self-styled socialist drew an estimated 5,000 people to his formal campaign kickoff in Vermont. The next day he packed roughly 700 into a town hall event in Davenport, Iowa—a figure that, according to the New York Times, made it the single largest rally in the state for any single candidate this season. (It also dwarfed the 50-person crowd at a Saturday event in the same city for Martin O'Malley, who had officially announced his own Democratic bid earlier that day.)
The weekend brought more evidence of Sanders' unusual drawing power. On Saturday another 700 or so people filled a community center to capacity in Iowa City to hear the Vermont senator speak, with several hundred more who couldn't make it into the event hanging around in the lobby to hear Sanders' remarks over loudspeakers. Hours later 300 or so potential voters crammed into a community center in Kensett, Iowa, to listen to Sanders—which sounds like a relatively meager number until you realize the Census Bureau pegs the rural town's population at a scant 261. And on Sunday several thousand people turned out for one of the 73-year-old's events in Minneapolis.
The polls are starting to tell a similar story. For much of 2015, Sanders has been mired in the single digits nationally. But as his campaign picked up steam over the past month, those numbers have taken a sharp turn skyward. According to the latest Quinnipiac University poll, from the end of May, Sanders now sits in second place with 15 percent support among likely Democratic voters. Meanwhile, O'Malley, long considered to be the most obvious candidate to challenge Hillary Clinton from her left, clocks in at 1 percent, placing the former Maryland governor on par with two candidates most voters are barely familiar with, Jim Webb and Lincoln Chafee. Almost any way you cut it, Sanders is having his moment on the left. His detailed, progressive policy agenda has captured the attention of a sizeable chunk of Democrats who remain skeptical of Hillary.
But it's hard to know if this has anything to do with Bernie Sanders. It's long been apparent that anybody-but-Clinton liberals were eager to rally around someone. That's why the left held out hope against hope that Elizabeth Warren would enter the race, even though she said again and again (and again) that she wasn't going to jump in. It's why Joe Biden—who hasn't definitively ruled out a run but also hasn't taken any concrete steps toward one—continues to place second or third in most Democratic polls when he's listed as an option. And, to a lesser extent, it's why O'Malley was showered with so much press earlier this year despite remaining a relative unknown to Americans. The question has never been whether Clinton was going to have a challenge from the left; the question was who was going to provide that challenge. While Sanders appears to be the front-runner for that job, the task itself remains as difficult as it's always been.
Despite his recent polling successes and ability to pack a gymnasium, Sanders can't become a real contender until he can actually start siphoning off support from Clinton. And, at least so far, there's been little to no evidence that he or any other liberal can do that, as this Huffington Post graph of national polling trends illustrates nicely:
Sanders' jump in the polls conveniently corresponds to pollsters—and likely voters—finally coming to grips with the reality that neither Warren nor Biden is going to run for president. Sanders still has some room to grow as that shift continues, but cutting into Clinton's net lead means little unless Sanders can eat into her actual base of support. And, despite months of bad press, Clinton's blue line in the above graph has largely held steady.
A new Bloomberg/Des Moines Register poll of likely Democratic caucus-goers in Iowa suggests it's probably going to stay that way. Clinton is currently the first choice for 57 percent of likely Democratic caucus-goers in Iowa—1 point higher than where she was in the previous poll taken in January, back before Americans learned of her penchant for private email to do public business, and the Clinton Foundation's cozy relationship with its global patrons. Clinton's favorability rating among Iowa Democrats tells a similar story—86 percent now think well of her, up 2 points from January, while the former secretary of state's unfavorable rating fell 3 points to 12 percent.
Right now it's unclear what would have to happen for those Democrats who plan to vote for Clinton to change their mind. In the meantime, Sanders is proving he can give voice to the progressive wing of the Democratic Party that is desperate for one—but it won't matter come election time unless Clinton's current supporters are willing to listen too.