Watch This Drone Video of a Beautiful, Nearly-Frozen Niagara Falls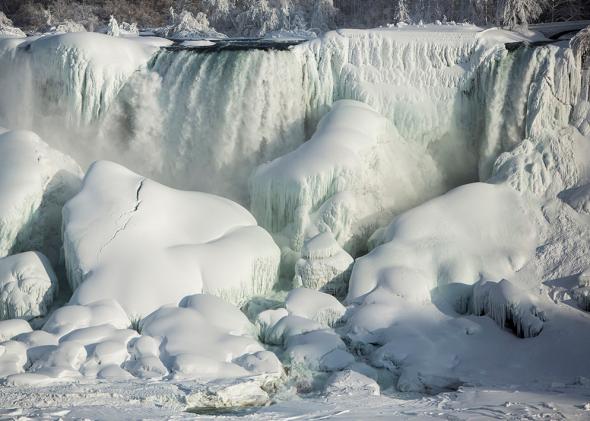 One upside to the these historic levels of bone-chilling cold: Really cool images! Canadian videographer Brent Foster captured the nearly frozen Niagara Falls on Friday morning via drone. Over email, Foster describes the experience:
It was a very cold shoot, but we were very careful to keep flight times to a minimum and to keep my hands as warm as possible to maintain full control and stay safe during the flight. I personally have never seen Niagara Falls frozen like that before. It was spectacular to capture.
Temperatures in Buffalo, just a few miles from the falls, have averaged more than 13 degrees below normal so far in February and more than 23 degrees below normal over the past week. That's enough to create some breathtaking ice formations near the base of the falls. The rushing water that creates the falls can never completely freeze solid, though in extreme cases it can create an "ice bridge" between the U.S. and Canada. In 1912, that ice bridge collapsed, killing several tourists that had walked out onto it. (So far, we're not in ice bridge territory.)
As the climate warms, a frozen Niagara will surely become increasingly rare. Even this current cold snap is somewhat of a fluke—nationwide, there have been five times as many record highs so far in 2015 than record lows, with the western U.S. locked into persistent warmth.
Unfortunately, this ridiculously cold weather isn't going anywhere. A persistent kink in the jet stream is sending wave after wave of Arctic air plunging toward the East Coast, a pattern that's expected to last well into March.