Blizzard Latest: Boston Gets the Massive Storm It Expected, NYC Does Not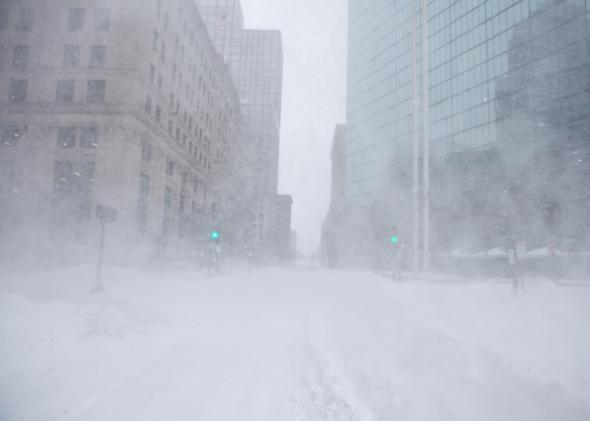 That's a wrap for our Slatest blizzard live blog.
As of 7 p.m., Boston has clinched at least the city's 6th biggest snowstorm in history with 23.3 inches on the books so far. It's still snowing there—an additional 1 to 3 inches are expected before snowfall ends by midnight. It's unlikely the city will overtake its all-time single snowstorm record, 27.5 inches in February 2003, but it'll be close. Counting this week's blizzard, five of the ten biggest snowstorms in city history have all occurred since 1997. Weather records in Boston date back to 1872.
The forecast for a "historic" and "crippling" blizzard over eastern New England essentially came to pass. Snow totals reached three feet in Worcester County, Massachusetts, at the top end of National Weather Service forecasts.
In sharp contrast, the storm was a flop in New York City. Just 8 to 12 inches fell, much less than the 20 to 30 inches the National Weather Service had been anticipating, though the Weather Channel picked up on these trends early enough to issue a nearly perfect forecast. In a midday press conference on Tuesday, Mayor Bill de Blasio said, "We obviously missed the worst of the storm." Defending actions by his office and Gov. Andrew Cuomo to shut schools and freeze regional transportation, de Blasio added, "Prepare for the worst. Hope for the best."
Early Tuesday morning, a Philadelphia-area National Weather Service meteorologist publicly apologized via Twitter for the poor forecast, saying, "You made a lot of tough decisions expecting us to get it right, and we didn't. Once again, I'm sorry."
Winds briefly exceeded hurricane force this morning on Nantucket, with thundersnow reported in Cape Cod. The storm carved a new inlet at Ballston Beach in Truro, Mass., and significant coastal flooding was reported during both high tide cycles on Tuesday as blowing snow plastered the sides of beach houses.
There's a link between this storm and climate change. Ocean water temperatures off the East Coast were much above normal in advance of the storm, as they have been nearly all year. That helped to boost the amount of moisture available within the storm via enhanced evaporation. But there's an even easier link to climate change: Sea levels in the Northeast have risen by about a foot over the last 100 years or so, about half of which is directly attributable to warming seas and melting glaciers worldwide. There's 100 percent certainty, in my view, that sea level rise is making the impact of extreme coastal storms like this one worse.