John Kerry: No Deal With Iran Is Better Than a Bad Deal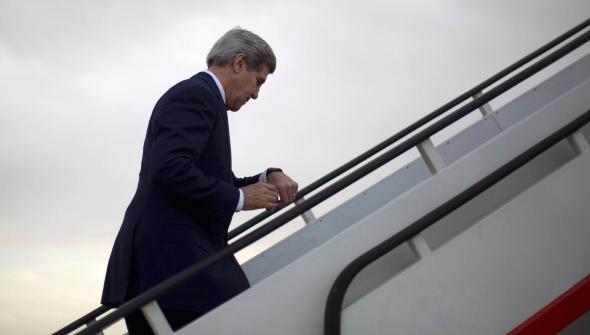 Secretary of State John Kerry went on Meet the Press to try to put a positive spin on the failure of two days of marathon negotiations that ended without a deal early Sunday morning. After hours-long bargaining sessions diplomats failed to come to a deal that would have curbed Iran's nuclear program in exchange for a relief from economic sanctions. But it's not all bad news, insisted Kerry.
"I think there was unity (among western diplomats) there, David, with respect to getting it right," Kerry told NBC's David Gregory. "And we all have said, President Obama has been crystal clear. Don't rush. We're not in a rush. We need to get the right deal. No deal is better than a bad deal."
At a late-night news conference after the talks collapsed, Kerry insisted the talks had been "very productive" because "we came to Geneva to narrow the differences, and I can tell you without any reservations, we made significant progress," reports the Washington Post.
On NBC, Kerry also strongly rejected accusations that a deal with Iran would endanger Israel. "We are not blind, and I don't think we're stupid," Kerry said. "I think we have a pretty strong sense of how to measure whether or not we are acting in the interests of our country and of the globe, and particularly of our allies like Israel and Gulf states and others in the region."
Iranian President Hassan Rouhani's administration is also emphasizing that the talks are a work in progress, notes the Associated Press. At the same time though, Rouhani insisted there are certain things his government will not compromise on, including the country's right to pursue uranium enrichment, which he described as a "red line" that can't be crossed. The six-nation block known as the P5-plus-1 will try again to reach a deal with Tehran on November 20.