Florida Police Chief Agrees, Zimmerman's Another "Sandy Hook, Aurora" Waiting to Happen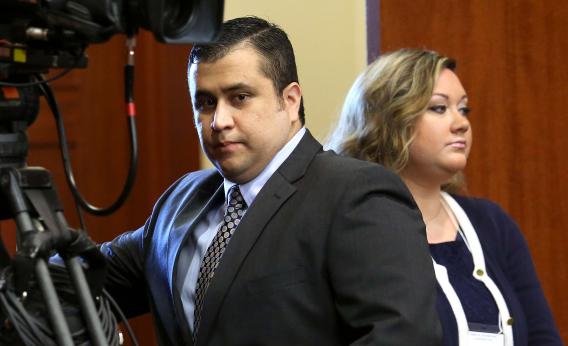 Florida police are still deciding whether to press charges against George Zimmerman for a domestic incident earlier this week, but the man who heads the police department leading the investigation certainly sounds like someone who is afraid of what the former neighborhood watch volunteer might do one day. Responding to an email from a man who speculated that Zimmerman was another "Sandy Hook [or] Aurora waiting to happen," Lake Mary Police chief Steve Bracknell wrote simply (formatting his):
Your reference to Sandy Hook.............................. I agree.
That was probably the most headline-ready quote among several of them from Bracknell's lengthy email, which along with the one he was responding to was published Thursday evening by ThinkProgress. Bracknell, who confirmed that the messages were authentic, later downplayed his comment, telling the website that he was simply "referring to the fact that [Zimmerman] seems to be involved in incidents" involving firearms fairly often.
As attention grabbing as the "Sandy Hook" line is, though, perhaps more interesting is the light Bracknell shines on the ongoing question of whether Zimmerman was armed during Monday's incident. Shellie Zimmerman originally told 911 that her husband had a gun when he allegedly threatened her and her father, but she later changed her story, saying she never actually saw a firearm. Police, likewise, have told a similar story. "We didn't find anything that indicated he had a gun on his person," Lake Mary police spokesman Zach Hudson said the night of the incident. Those last three words—on his person—may be the key to the confusion, though. Bracknell writes that, in reality, George Zimmerman's gun was never far away:
3. We did not have the authority to search his truck. He DID have a firearm in the truck. Having a firearm is not a violation of Florida law.
4. Yes he was standing by his truck when our officers arrived at the scene. Could he have placed the gun into the truck prior to our officers arrival? Certainly. Again, it is not illegal for him to possess a firearm.

It's unclear how, exactly, Bracknell knows the gun was in Zimmerman's truck given police didn't search it—and even less clear why they wouldn't look there in the first place. During Shellie's original 911 call, she told the dispatcher that her husband "is in his car and he continually has his hand on his gun and he keeps saying step closer and he is just threatening all of us." "Step closer and what?" the dispatcher responds. "And he's going to shoot us," Shellie replies.
Here is the series of the three emails (one from Bracknell bookended by two from Santiago Rodriguez, who sent his original email via a contact form on the police department's website):
This post has been updated.