Jennifer Lopez Sings Happy Birthday to the Alleged Dictator of Turkmenistan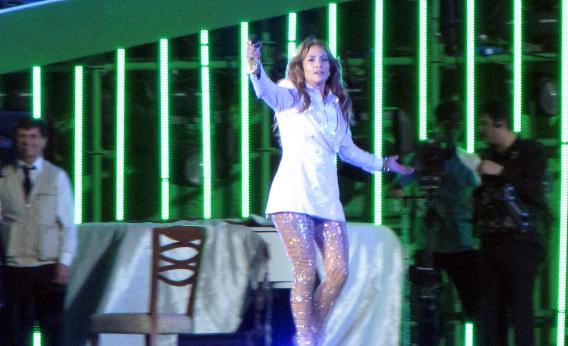 Jennifer Lopez performed in Avaza, a tourist zone in Turkmenistan, on Saturday night in a concert that culminated in the pop star singing "Happy Birthday" to the country's president, Gurbanguly Berdymukhamedov. Berdymukhamedov has been criticized for widespread human rights violations, including barring citizens from leaving the country, imprisoning journalists, and detaining, torturing, or simply "disappearing" citizens who criticize the government.

Lopez may be the first major American celebrity to visit Turkmenistan, an isolated former republic of the Soviet Union. During her performance Saturday night, Lopez said, "It was my pleasure, and we wish you the very, very happiest birthday." The former "American Idol" judge sings "Happy birthday, Mr. President" around the 0:55 mark in the video below:
In a 2012 report on the country, Human Rights Watch described Turkmenistan under Berdymukhamedov's rule as "one of the world's most repressive countries." From the report:

All print and electronic media are state-controlled. It is very difficult for foreign media outlets to cover Turkmenistan because they often cannot access the country.

Internet access remains limited and heavily controlled by the state. The country's only internet service provider is state-operated, and political opposition websites are blocked. Internet cafes require visitors to present their passports. The government is known to monitor electronic and telephone communications.
Turkmenistan is known for its gas reserves, and Agence France Presse reports that China's state-run oil company, China National Petroleum Corporation, arranged for Lopez's visit. From the Guardian:
Lopez's publicist released a statement on Sunday saying that had Lopez been aware of the country's human rights issues, she would not have performed there, the Associated Press reported. The statement said she was invited to perform for CNPC and "graciously obliged" their last-minute request to sing a birthday tune for Berdymukhamedov.
Lopez has also performed at the wedding of an Uzbek businessman in Ukraine, reportedly for $1m (£660,000), as well as for the Azeri oligarch Telman Ismailov, reportedly for $1.4m.
Before two performances in Russia last year, Lopez declined to comment on the human rights situation in the country with fans, saying in response to a question about the jailed punk band Pussy Riot: "I don't like to talk politics, to be quite honest."
In a letter from 2011, Human Rights Watch accused Berdymukhamedov of evicting Turkmen citizens from their homes and ordering them demolished as part of his administration's "urban renewal project." There is only one political party in the country—the ironically named Democratic Party of Turkmenistan, which is led by Berdymukhamedov.
This post has been updated to include more information.