The First Lady Has a Different Strategy for Handling Hecklers Than Her Husband Does (UPDATE: Now With Video)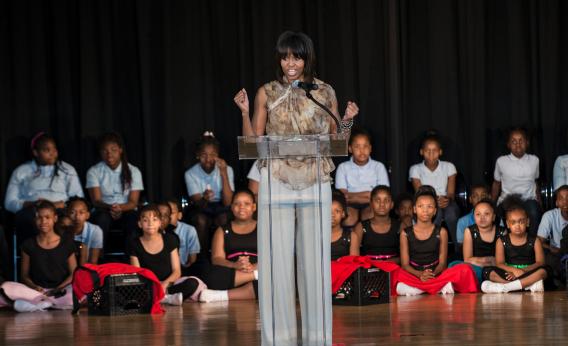 Most notable part of the event was an interruption from a protester about 12 minutes into the 20-minute speech. A pro-LGBT rights individual standing at the front began shouting for an executive order on gay rights. (Pool did not hear exactly what.)
"One of the things I don't do well is this," replied FLOTUS to loud applause. She left the lectern and moved over to the protester, saying they could "listen to me or you can take the mic, but I'm leaving. You all decide. You have one choice."
Crowd started shouting that they wanted FLOTUS to stay. "You need to go!" said one woman near the protester.
The protester was then escorted out, shouting "…lesbian looking for federal equality before I die." (First part of the quote was inaudible.) Pool could not get their name before they were taken out.
"So let me make the point that I was making before," continued FLOTUS. "We are here for our kids. So we must recapture that passion. That same urgency and energy that we felt back in 2008, 2012. Understand this — this is what I want you all to understand. This is not about us. No one back here. It's not about you or you or your issue or your thing. This is about our children."
Loud applause in response to this comment.
The heckler turned out to be Ellen Sturtz, who spoke with several reporters after the event to relive the moment of her face-to-face confrontation with the first lady. "She came right down in my face," Sturtz told the Washington Post. "I was taken aback."

The event was a private fundraiser, so we don't have any video of the incident (yet, at least). But already we do have some garbled audio, which you can listen to below.

UPDATE at 5:09 p.m.: CNN manages to track down some cellphone footage of the confrontation. It's not the best, but it paints a better picture than the garbled audio: