GOP Senator Says Moore Aid Will Be "Totally Different" Than Sandy Bill He Voted Against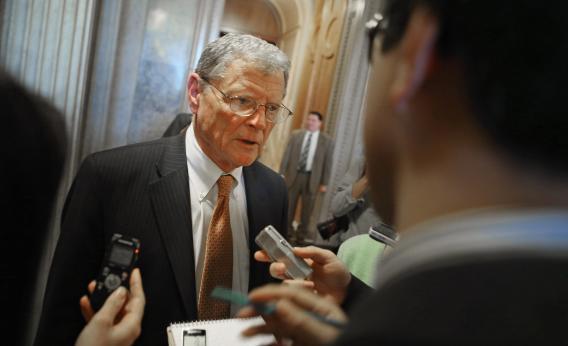 Weigel touched on this earlier but it's worth highlighting again now that we have video and a current pull-quote. Oklahoma's two senators, Republicans Tom Coburn and James Inhofe, both voted against a federal aid packaged for those hit by the Superstorm Sandy. Given the damage in Moore, Okla., that has plenty of people wondering what the Sooner State senators will think of sending federal cash to the OKC suburb. Here's what Inhofe had to say during an MSNBC appearance this morning:

Here's that quote again: "Well, let's look at that. That was totally different. They were getting things—for instance that was supposed to be in New Jersey, they had things in the Virgin Islands, they were fixing roads there, they were putting roofs on houses in Washington, D.C., everyone was getting in and exploiting the tragedy taking place. That won't happen in Oklahoma."

It is of course unclear how the Oklahoma Republican plans to ensure that any federal aid package stays pork-free—along with whose definition of pork he plans on using. (Although it's probably safe to say, his.) Coburn, meanwhile, has already said that any federal aid to Oklahoma must be offset by cuts elsewhere. Clearly, it will be interesting to see how they vote if/when their particular demands aren't met.

As the Huffington Post reminded everyone last night, Oklahoma currently ranks third in the nation (trailing only Texas and California) in terms of total federal disaster and fire declarations, actions that kickstart the federal emergency relief funding process.