Dzhokhar Tsarnaev Charged With Using WMD, Could Face Death Penalty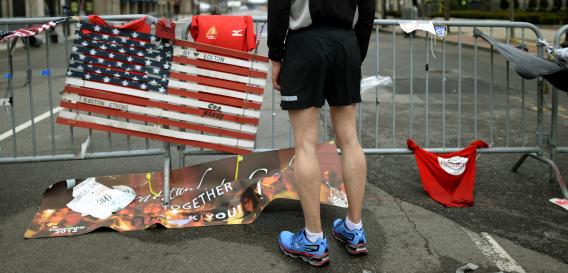 The Justice Department announced this afternoon that Boston bombing suspect Dzhokhar A. Tsarnaev has been charged with "using a weapon of mass destruction against persons and property at the Boston Marathon," a charge that brings with it the possibility of the death penalty:

In a criminal complaint unsealed today in U.S. District Court for the District of Massachusetts, Tsarnaev is specifically charged with one count of using and conspiring to use a weapon of mass destruction (namely, an improvised explosive device or IED) against persons and property within the United States resulting in death, and one count of malicious destruction of property by means of an explosive device resulting in death. The statutory charges authorize a penalty, upon conviction, of death or imprisonment for life or any term of years. Tsarnaev had his initial court appearance today from his hospital room.
"Although our investigation is ongoing, today's charges bring a successful end to a tragic week for the city of Boston, and for our country," said Attorney General Eric Holder. "Our thoughts and prayers remain with each of the bombing victims and brave law enforcement professionals who lost their lives or suffered serious injuries as a result of this week's senseless violence. Thanks to the valor of state and local police, the dedication of federal law enforcement and intelligence officials, and the vigilance of members of the public, we've once again shown that those who target innocent Americans and attempt to terrorize our cities will not escape from justice. We will hold those who are responsible for these heinous acts accountable to the fullest extent of the law."