Sarah Palin: "More Background Checks? Dandy Idea, Mr. President. Shoulda Started With Yours"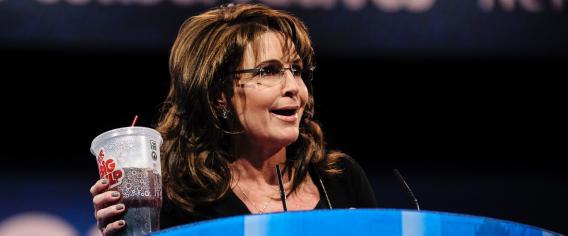 The days of speculating about Sarah Palin's presidential ambitions seem to be long gone. But the rousing applause and standing ovations she received at an annual conservative gathering was a stark illustration of how the former Alaska governor is still hugely popular with those on the right, notes the New York Times. In a 30-minute typically folksy speech at the Conservative Political Action Conference, Palin attacked President Obama, Washington insiders, the media, and took out a Big Gulp in the middle of the speech in a not-so-subtle dig at New York Mayor Michael Bloomberg.
Palin fired against Obama for a litany of issues, including his stance on gun control, the lack of transparency in the administration, and at one point even compared his presidency to a reality TV show, reports the Washington Post. "Remember no-drama Obama? If only. Now it's all-drama Obama," Palin said. "We don't have leadership coming out of Washington. We have reality television. Except it's really bad TV, and America tuned out a long time ago." She also criticized Obama's push for more control over gun sales. "More background checks?" Palin said. "Dandy idea, Mr. President. Shoulda started with yours."
Palin also called on Republicans to avoid consultants and Washington insiders. "The next election is 20 months away. Now is the time to furlough the consultants, and tune out the pollsters, send the focus groups home and toss the political scripts," she said. Palin also took a thinly veiled dig at Karl Rove, who recently said Republicans need to choose more electable, rather than ideological, candidates, reports USA Today. "The last thing we need is Washington, D.C., vetting our candidates," Palin said. "The architects can head on back to the great Lone Star state and put their names on some ballot." Former president George W. Bush famously called Rove the architect of his electoral victories.
Watch Palin's speech after the jump: