Holy Smoke! Meet Pope Francis. He Has One Lung, Loves the Bus, and Hates Gay Marriage.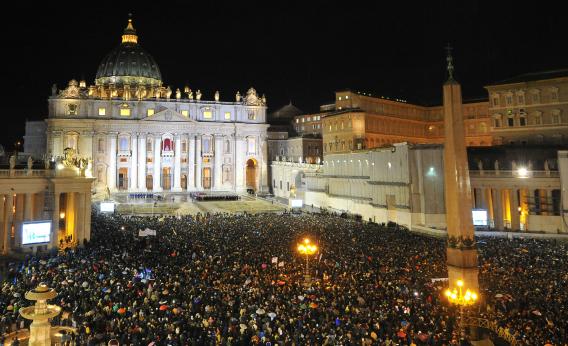 And the new pope is: 76-year-old Jorge Mario Bergoglio from Argentina, who will now be known as Pope Francis.
His papal selection gives the Catholic Church its first non-European Holy Father in more than 1,000 years and represents something of an upset in what has traditionally been an unpredictable selection process. Bergoglio didn't crack most short-lists heading into the conclave, and was a major (33-1 at one point) underdog in the eyes of online bookies, making his selection that much more surprising because it happened on only the second day of voting.
At 76, Bergoglio is on the older side for election as pope. He's also an unconventional choice for a couple of other reasons: He's the first Jesuit pope in the church's history, and he's the first to hail from the Americas (although his father was an Italian immigrant). Perhaps fittingly, as his lack of a Roman numeral would imply, he's the first pope to assume the name of Francis. Oh yeah, and he has only one lung, having lost the other to an infection when he was a teen. Here's USA Today with a few more interesting tidbits about his simplistic life style:

Despite being Argentina's top church official, Bergoglio never lived in the ornate church mansion in Buenos Aires, preferring a simple bed in a downtown room heated by a small stove. For years, he took public transportation around the city and cooked his own meals.

The Catholic News Service describes his leadership style as "low-key and close to the people" and notes that to many in Buenos Aires, he is—or we suppose, was, now that he got the promotion of all promotions—known simply as "Father Jorge."

Though it's hard to say how seriously one should take the specifics, the general consensus is that Bergoglio was indeed the "runner-up" last time around [in 2005]. He appealed to conservatives in the College of Cardinals as a man who had held the line against liberalizing currents among the Jesuits, and to moderates as a symbol of the church's commitment to the developing world. ...
Another measure of Bergoglio's seriousness as a candidate was the negative campaigning that swirled around him eight years ago. Three days before the 2005 conclave, a human rights lawyer in Argentina filed a complaint charging Bergoglio with complicity in the 1976 kidnapping of two liberal Jesuit priests under the country's military regime, a charge Bergoglio flatly denied. There was also an e-mail campaign, claiming to originate with fellow Jesuits who knew Bergoglio when he was the provincial of the order in Argentina, asserting that "he never smiled."
Like many Latin American cardinals, Bergoglio has previously placed an emphasis on social justice and poverty work. Still, he is nonetheless seen by most as a theological conservative, like the man he is replacing. Unsurprisingly—but still noteworthy—is the fact that he waged an ultimately unsuccessful push to prevent Argentina from becoming the first Latin American country to legalize gay marriage, and declared that allowing gay couples to adopt children was discrimination against children.
You can listen to his first papal address below:

This post has been updated with additional information.