Nate Silver Says Obama Has a Better Than 90 Percent Chance of Winning the Election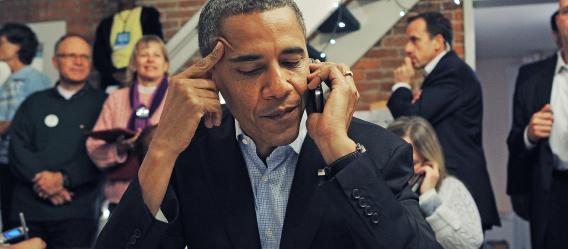 (This post has been updated with Silver's latest projections, which went live shortly after 10 a.m.)
Today is Nov. 6, which means it's Election Day. It also means that Nate Silver's much-debated "forecast" and "now-cast" are now one and the same. Here are the latest (as of 10:10 a.m.) projections from the New York Times' polling blogger and psephologist, whose ongoing forecast has become one of the leading secondary storylines this campaign season as much of Washington's chattering class refused to believe this race is/was anything but a toss-up.

Electoral vote: President Obama 313.0, Mitt Romney 225.0. That's a 1.4 vote swing in Romney's favor since this morning's projections (published at 4 a.m.) but nontheless still represents a 14.0-vote shift in Obama's direction since Oct. 30.

Popular vote: Obama 50.8 percent, Romney 48.3 percent. That's a 0.4-point gain for Obama (and a 0.2 drop for Romney) in the past week. Obama's never trailed in Silver's forecasted popular vote, but hasn't topped the 51.6 percent mark since the forecast began early this summer.
Chances of winning: Obama 90.9 percent, Romney 9.1 percent. The latest forecast gives the president his best chance of winning that he's had all season in Silvers' Nov. 6 forecast, according to the NYT interactive.* Previously, Obama's best odds had topped out at 87.1 percent on Oct. 4. Silver's now-cast, meanwhile—which is supposed to provide a snapshot of where the president stands on a particular day (and not where it would likely stand on Election Day)—gave Obama a 98.1 percent chance of winning back on Sept. 30.
(*Note: Silver's interactive provides daily data dating back to the start of this summer, but doesn't provide multiple data points for each day. So while Obama's chances of winning were technically 91.6 percent as of the 4 a.m. forecast, that interim figure isn't registered in the interactive now that there's been a subsequent update today.)

It's worth noting that as Silver's critics became louder during the campaign's final days, his projections did not hedge toward the center, something that (intentionally or not) would have given him more cover if Romney ends up winning the election. Instead, over the past seven days Silver's forecast for Obama's chances of victory increased by 13.5 percent (his now-cast likewise climbed by 11.4 percent).

Silver's confidence in an Obama victory stems heavily from the president's prospects in Ohio, a battleground state that Romney likely needs to win to have any chance at pulling off the upset. Silver's latest calculations give the president a 90.6 percent chance of taking the Buckeye State.

We'll of course be revisiting Silver's projections later to see how he fared but, in the meantime, here he is on The Colbert Report last night: