Romney Surrogate Plays the Race Card in Explaining Powell's Obama Endorsement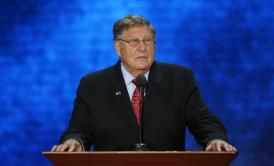 Last night, one of Romney's top surrogates, former New Hampshire Gov. John Sununu, explained why he thought Powell was breaking with his own party for the second election in a row to support a Democrat for president. Sununu argued, in short, that it was because Powell and Obama are both black.
The comments came at the very end of Sununu's appearance on CNN's Piers Morgan Tonight, after the host asked whether Powell should leave the Republican Party given his recent endorsement history.

Sununu: Well, I'm not sure how important that is. I do like the fact that Colin Powell's boss, George Herbert Walker Bush, has endorsed Mitt Romney all along. And frankly, when you take a look at Colin Powell, you have to wonder whether that's an endorsement based on issues or whether he's got a slightly different reason for preferring President Obama.

Morgan: What reason would that be?

Sununu: Well, I think when you have somebody of your own race that you're proud of being president of the United States, I applaud Colin for standing with him.
Sununu, perhaps realizing the error of his ways, backtracked from that suggestion shortly after the interview, releasing a statement few hours later saying: "Colin Powell is a friend and I respect the endorsement decision he made and I do not doubt that it was based on anything but his support of the president's policies. Piers Morgan's question was whether Colin Powell should leave the party, and I don't think he should."
Here's the video of the original comments: