Tonight's Town Hall Moderator Plans To Moderate After All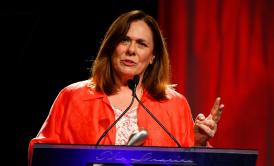 Here's how Crowley explained how she sees her role during an interview on CNN this afternoon:

"They will call on 'Alice,' and 'Alice' will stand up and ask a question. Both candidates will answer. Then there's time for a follow-up question, facilitating a discussion, whatever you want to call it. So if Alice asks oranges, and someone answers apples, there's the time to go, 'But Alice asked oranges? What's the answer to that?' Or, 'Well, you say this, but what about that?' "
Here's the exact wording from the debate memo, which doesn't provide much room for interpretation:
"The moderator will not ask follow-up questions or comment on either the questions asked by the audience or the answers of the candidates during the debate or otherwise intervene in the debate except to acknowledge the questioners from the audience or enforce the time limits, and invited the candidate comments during the 2 minute response period."
While lawyers for both camps hashed out the rules memo earlier this month, no one seems to have run it by Crowley. She had previously made numerous mentions that she had no plans to sit by and let candidates talk their way around a difficult question from the audience without answering it. While those comments drew a formal complaint from both campaigns, it doesn't appear as though the debate organizers will be able to do much to block Crowley once she takes the stage.