Moises Serrano on Why Immigration Reform Is an LGBTQ Issue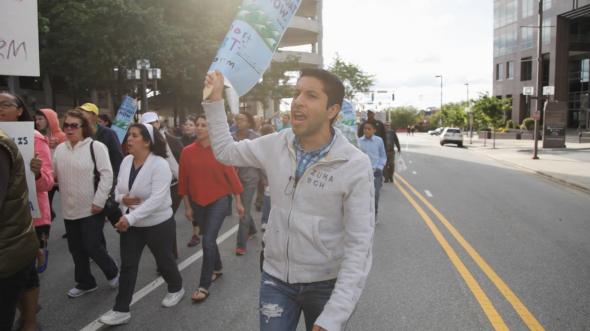 "My nationality became a racial epithet," says Moises Serrano of last year's presidential election campaign. "Mexicans were Donald Trump's punching bag."
Serrano, 27, is an undocumented Mexican immigrant living in North Carolina: His parents brought him to the United States from when he was just 2 years old. And although being undocumented has become increasingly dangerous in the U.S., Trump's election win was particularly frightening.
"It sent shockwaves through the nation," says Serrano. "But as an openly undocumented person, I was really terrified. We are at the disposal of this administration."
With the president's recent pardon of former Sheriff Joe Arpaio, well-known for his abuse of immigrants, Serrano's fears are quickly being realized.* But Serrano has had to confront this new American reality on two fronts: first, as an openly undocumented immigrant, and second as a gay man. "I've had to dance between two lives, between two spaces," he says. "I've had to build a skill of knowing when and where to share each element of my identity, to choose which narrative is most important."
This dual struggle is the subject of a new documentary premiering this Friday at 8 p.m. on Logo TV, Forbidden: Undocumented and Queer in Rural America. Written and directed by Tiffany Rhynard, the documentary follows Serrano as he journeys throughout North Carolina, speaking at public events where he shares his story and campaigns for immigration reform, particularly in relation to access to education. But it also follows his personal life as he navigates a new relationship, intimate moments filmed by Serrano himself on a handheld camera.
"We need to dispel the myth that undocumented immigrants are one-dimensional," says Serrano. "Undocumented people are queer too. We have intersecting identities. All human struggle is interconnected at some level."
The problem, says Serrano, is that this interconnectedness all too often goes unrecognized. Growing up in the South, Serrano and his family often found local churches to be very supportive spaces in the struggle for immigration rights. But when it came to being gay, Serrano felt shut out.
"Churches are our biggest allies," says Serrano. "But I had to listen to pastors speak out against gay marriage, knowing I would never be able to come out in that space."
Meanwhile, Serrano has found that queer spaces can be equally unfriendly, and has felt misunderstood or completely ignored by the mainstream LGBTQ community. "Immigration reform is an LGBTQ issue," he says. "But that dialogue is not being had in a lot of queer spaces. The LGBTQ community has been quite silent."
Serrano is hoping that this documentary will start to change that by igniting a conversation about the importance for immigration reform among the LGBTQ community. Logo has also announced a partnership with the American Civil Liberties Union to "inform the public of the struggles and stigmas placed upon individuals facing similar challenges."
Particularly concerning for Serrano is the future of the Deferred Action for Childhood Arrivals, or DACA, the Obama administration's program which protected young undocumented immigrants brought to the U.S. as children from deportation and provided them with legal access to work. "Having that taken away is terrifying for us," he says.
"For Moises and nearly 800,000 other young people across the country, DACA is a lifeline," said Lorella Praeli, the director of immigration policy and campaigns at the ACLU. "It has empowered Dreamers to live, work, and pursue their futures in the United States, their home. Young immigrants like Moises made DACA possible through their advocacy."
The documentary centers on Serrano's journey towards college, confronting the challenges of being both undocumented and also coming from a family without the financial means to pay for college tuition. Serrano was eventually accepted to Sarah Lawrence College on full scholarship, but without DACA, he says all that struggle will be in vain: "My degree will mean nothing if I lose the right to work."
Still, Serrano is hopeful that stories like his will inspire more people to take action for immigration reform. "This administration has made sure immigration is at the forefront of their rhetoric," he says. "But both sides are escalating their battles. I'm working to build as many bridges as possible."
*Correction, Sept. 1, 2017: This post originally misidentified Joe Arpaio as a current law enforcement official. Arpaio lost re-election to his longtime post as sheriff of Maricopa County, Arizona, in 2016.