Malls and Restaurants Schedule Workers at the Last Minute. Oregon Just Made That Illegal.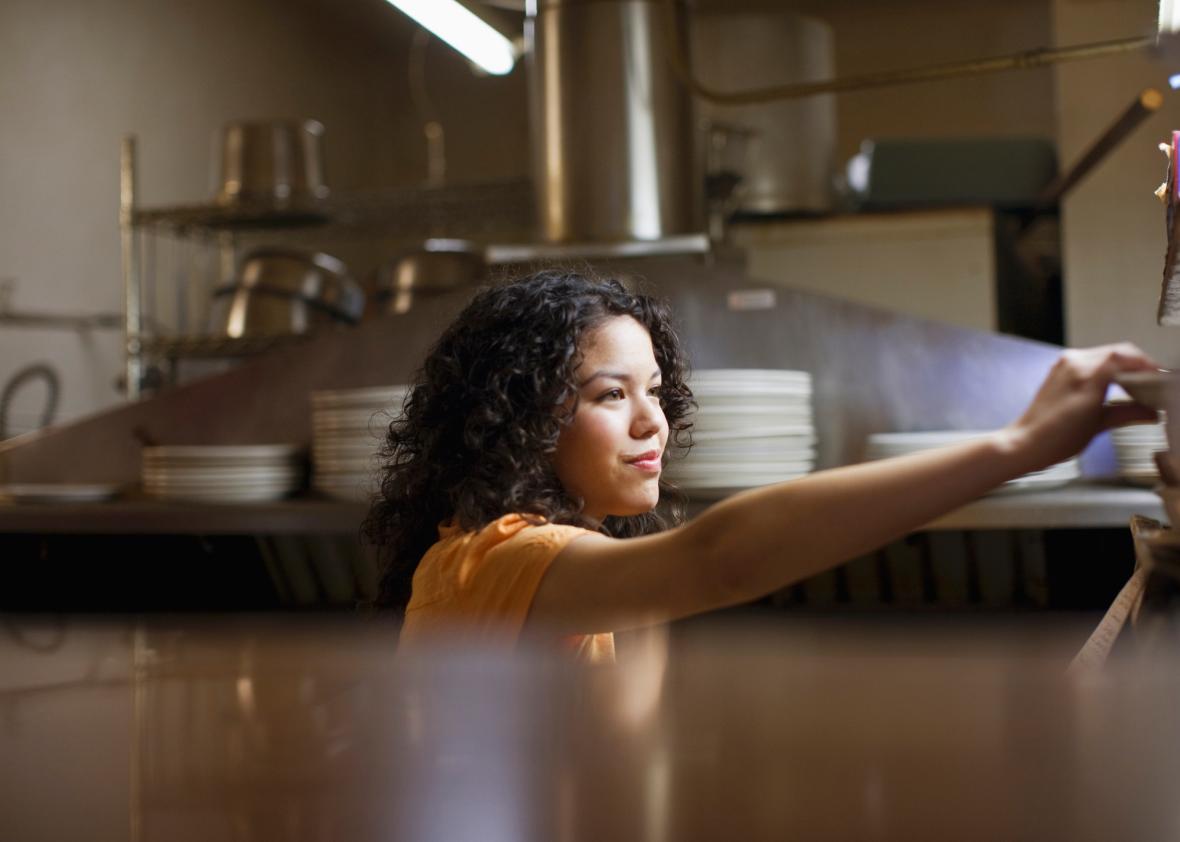 As the Democratic Party continues to flail over what besides resistance to Donald Trump it stands for (what's the health care plan, anyway?), they can look for inspiration to Oregon, where Democratic Gov. Kate Brown signed the country's first statewide employee scheduling law on Tuesday.
Want to listen to this article out loud? Hear it on Slate Voice.
Listen to an audio recording of this article
Get Slate Voice, the spoken edition of the magazine, made exclusively for Slate Plus members. In addition to this article, you'll hear a daily selection of our best stories, handpicked by our editors and voiced by professional narrators.
Start your free 2-week trial
Your Slate Voice podcast feed
To listen to an audio recording of this article, copy this link and add it to your podcast app:
For full instructions see the Slate Plus podcasts FAQ.
Starting in July 2018, Oregon will require big companies in retail, hospitality, and food service to give employees schedules at least a week ahead of time, and offer stress pay to workers who don't get a 10-hour break between shifts. By 2020, employers covered by the law will have to hand out schedules two weeks in advance.
Oregon is the first state to pass such a law, which grows out of a vibrant municipal movement to humanize low-wage fast food and mall jobs that can no longer be thought of as stopgap positions, if they ever were. The median age of a retail employee, for example, is 39. According to a New York state study, most retail workers are breadwinners. It's hard to spend time with your family if you never know when you get off work.
San Francisco, Seattle, and New York City all have similar policies in place. The Oregon bill may be a sign that the movement is about to jump from cities to states. In December, the Illinois attorney general announced that a group of large retailers including Aeropostale and Disney would stop using on-call scheduling after an investigation. A handful of other blue-state AGs are also looking into it. In 2015, Elizabeth Warren introduced a fair scheduling bill in the Senate.
Conservative states have rallied against the movement, drafting pre-emption bills to prevent cities from passing their own ordinances. Georgia, Arkansas, Iowa, Michigan, and Tennessee have such laws on the books. But voters seem to generally approve of protections for low-wage workers: In November, deep-red Arizona voted by referendum to mandate paid sick days, in a rebuke to the Legislature's broad anti-worker pre-emption bill.
The bigger pictures is that scheduling laws are the latest addition to a slate of state-level progressive policies, inspired by city-level reforms, to help the largely ignored 25 million Americans who work in retail and food service. Those include:
Paid sick leave laws
Bans on noncompete agreements (yes, even Jimmy John's and Amazon warehouses have forced workers to relinquish their value on the labor market)
Minimum-wage hikes
It's adding up to something like a platform. Want to be the party of workers? Go to where the jobs are.
In that sense, it could be a particularly salient counterpoint to Donald Trump's inane quest to resuscitate the tiny, tiny coal-mining industry, with its immoral effects on both workers and the environment. Retail work is flagging in some sectors but remains an enormous section of the labor force (16 million workers), and warehouse employment is skyrocketing to keep pace with e-commerce demand. Restaurants have created more jobs since January than health care, construction, or manufacturing.
That reflects a structural change in American life. In 2016, for the first time ever, Americans spent more money at restaurants and bars than on groceries. We've been eating out more since the '70s, when female labor force participation was rising dramatically. But even as that rate has plateaued and slowed, the trend toward restaurant spending has increased as young people delay marriage and household formation. It also helps that the supermarket is cheaper than ever, meaning we can spend more money away from home. (It's not just that Americans are trading TV dinners for Chipotle; it's also that we are spending less on groceries—down from 8.3 percent of disposable income in 1982 to 5.7 percent in 2011.) By 2020, Derek Thompson writes at the Atlantic, restaurant work will surpass manufacturing.
In short, there is nothing niche about improving the quality of retail and restaurant work.
Why don't we pay as much attention to retail and restaurant jobs? Demographics are partly to blame. The retail jobs that have been hardest hit by job loss tend to be held by females and an above-average share of minorities. The female employment share in restaurant work is two points above the BLS average; the black-American share is two points above, and the Hispanic share is nine points above. This translate to a perceived lack of value, Slate's Jamelle Bouie wrote in April:
Work is gendered and it is racialized. What work matters is often tied to who performs it. It is no accident that those professions dominated by white men tend to bring the most prestige, respect, and pay, while those dominated by women—and especially women of color—are often ignored, disdained, and undercompensated.
But the problem is also that restaurant and retail jobs just aren't that good. They pay, on average, just over half as much as manufacturing jobs. They don't provide the routine shifts of punch-in, punch-out factory work.
Make the jobs better, and people will care more about them—both politicians and the workers who hold them. Fair scheduling is a more bulletproof policy than the progressive stalwart Fight for $15. (There are early signs that the rising-to-$15-wage has caused low-income workers to take home less as a group, even in booming Seattle.) Ensuring that workers have predictable, human schedules could be easily implemented across rich and poor cities, and it doesn't need to cost a dime.