Why Would Companies Ever Think a Campaign Like #AskSeaWorld Is a Good Idea?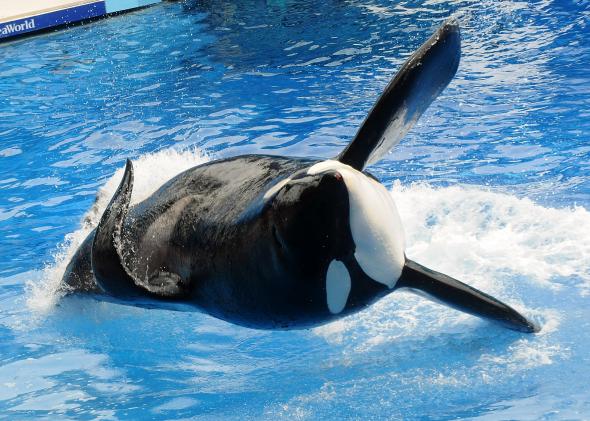 In an effort to improve its tanking image, SeaWorld launched a new advertising campaign this week to educate the public about its "leadership in the care of killer whales" and other work to protect whales in captivity and in the wild. "There's been a lot of misinformation and even lies spread about SeaWorld, and we recognize that it has caused some people to have questions about the welfare of killer whales in human care," David D'Alessandro, SeaWorld's interim CEO, said in a release. "This long-term campaign will address those questions head on."
As part of that head-on initiative, someone at SeaWorld decided to invite Twitter users to pose their questions to the company directly using the hashtag #AskSeaWorld. I'll give you one guess as to how that went over.

How do you sleep knowing you imprison innocent animals, abuse them for entertainment, lie to the public, and make millions? #AskSeaWorld

— Hi, My Name is (@thatshowirolled) March 27, 2015
As easy as it is to make fun of SeaWorld here, the real question is why any company still thinks hosting an open Twitter forum could be good for public relations. Let's review some of the times this has backfired, starting with the infamous McDonald's #McDStories Twitter campaign of January 2012. Rather than prompting customers to share their heart-warming McDonald's anecdotes, the hashtag gave critics a highly visible forum to share their top McDonald's horror stories. McDonald's pulled the campaign, but the damage was done. "#McDStories: When a Hashtag Becomes a Bashtag," Kashmir Hill quipped in Forbes.
Next up: In October 2013, British Gas set the Internet alight when it announced a major price increase in annual energy bills and then offered to field customer concerns on Twitter with the hashtag #AskBG. The company was quickly inundated with tweets demanding to know why prices had risen so much and why British Gas was so greedy. "My office has a window where the sun comes in and makes the side of my head really hot. How much do I owe you?" one user complained.

Just one month after that debacle, JPMorgan announced a "#TwitterTakeover" headlined with its first live Q&A. People were encouraged to submit their question using the hashtag #AskJPM. But before Jimmy Lee, JPMorgan's vice chairman, could take the virtual stage, the bank started getting flooded with, er, pointedly critical queries from its audience. Here are a couple of the best ones:

I have Mortgage Fraud, Market Manipulation, Credit Card Abuse, Libor Rigging and Predatory Lending AM I DIVERSIFIED? #AskJPM

— Downtown Josh Brown (@ReformedBroker) November 13, 2013
JPMorgan canceled the Q&A.
I emailed SeaWorld to ask who at the company had dreamt up the #AskSeaWorld part of the new campaign; so far, no one's responded. Meanwhile, the company's PR team is clearly having a tough time. "We are trying to answer your questions but we have a few thousand trolls and bots to weed through," SeaWorld's main account tweeted, with a somewhat-disturbing GIF of a baby attached. Before that: "Jacking hashtags is so 2014. #bewareoftrolls" with a decidedly creepy GIF of a masked man frantically typing at a laptop, and "No time for bots and bullies."
Let's be honest: This is all a very bad idea. The "haters gonna hate strategy" is never particularly effective when you're a brand under fire, and while puppies might help, weird GIFs don't do much for the cause. So maybe SeaWorld's social and PR folks just really have no idea what they're doing. Even so, you'd think they'd have learned from the corporate failures before them. Twitter Q&As are a terrible idea. A well-meaning hashtag gives critics an easy way to assemble and voice their complaints in a public forum. Why companies still try them is a great mystery. Maybe they'll all finally learn from SeaWorld and give this one horrible PR trick up for good.