The Fast-Food Strikes Have Been a Stunning Success for Organized Labor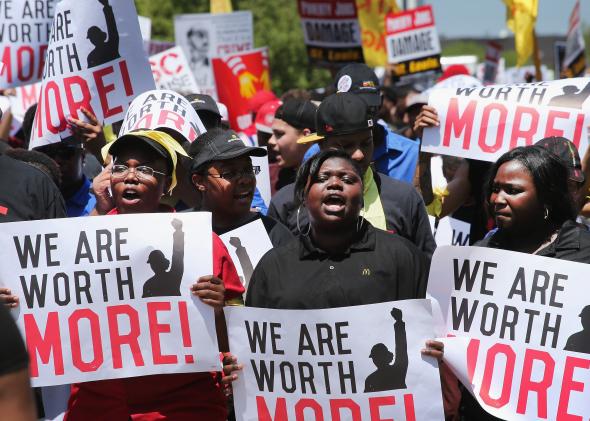 For the seventh time in nearly two years, fast food workers around the country walked out of their restaurants last week to demand a pay raise to $15 per hour and the right to unionize. In New York City, 21 workers were arrested for sitting in the middle of the street outside the McDonald's in Times Square. Organizers said more than 50 protesters were arrested for similar acts of civil disobedience in Detroit. Another 50 were detained in Chicago.
And so the most interesting—and most successful—American labor push in recent memory rolls on. The strikes, which began in November 2012, have been organized by the group Fast Food Forward and bankrolled by the Service Employees International Union, which according to the New York Times has spent more than $10 million on the cause. These walkouts haven't led to any unionized McDonald's or Taco Bell franchises yet. But at this early date, it's more useful to think of them as the spearhead of a broader living wage movement that has also seen retail workers at stores such as Walmart protest for better pay. Framed that way, the effort has been startlingly effective. For the cost of a few Super Bowl ads, the SEIU and some dedicated fast food workers have managed to completely rewire how the public and politicians thinks about wages.
Consider the numbers. Over roughly the past two years, 13 states have increased their minimum wage, as have 10 city and county governments, according to a tally by NBC News. Seattle voted to raise its citywide minimum to $15 an hour by 2018; San Francisco residents will vote on whether to do the same in November. The mayors of New York, Los Angeles, and Chicago have all backed a $13 wage floor. The president has come out in favor of a $10.10 national minimum. And just in case you were looking for a rough barometer of overall public interest in the issue, even Google searches for the phrase "minimum wage" have been consistently more common since the start of 2013. You don't have to think a $15 minimum wage is a brilliant idea (personally, I don't) to admire the efficacy of the effort.
All this has transpired at a time when organized labor has had little else to celebrate. The Tea Party wave of 2010 brought anti-union right-to-work laws to the industrial Midwest. The United Auto Workers' longstanding dream of organizing a foreign car-maker in the South suffered yet another crushing setback when employees at a Tennessee Volkswagen plant voted against joining the union. Overall, union membership has continued its long decline.
The fast-food strikes are an exceptional bright spot, even if they don't fit the typical notion of what labor unions are for. The movement has been patterned loosely on the SEIU's Justice for Janitors campaign, which has managed to organize 225,000 building cleaners across the U.S. and Canada since it began in early-1990s Los Angeles. Steven Ashby, a professor at the University of Illinois School of Labor and Employment Relations, explained to me that like restaurant workers, janitors were considered especially hard to unionize, in part because buildings didn't employ their own cleaning staff. Instead, they hired cleaning contractors whom they could legally terminate at the first rumblings of union activity. But by orchestrating citywide strikes and drumming up public outrage—much as fast food workers are attempting to do now—the SEIU eventually managed to win contracts for the janitors.
But whereas Justice for Janitors focused on improving conditions for one particular group of workers, the fast-food strikes have become part of a broader political project. The SEIU is also asking home health care workers, for instance, to march in the protests. As the New York Times' Steven Greenhouse reports, the "union hopes that if thousands of the nation's approximately two million home-care aides join in it would put more pressure on cities and states to raise their minimum wage."
This is all part and parcel of an important shift in the way organized labor has begun to view its role. Since the mid-20th century, unions have largely existed to win higher wages and benefits for their members, while collecting plenty of dues for the effort. Unions won't ensure their long-term survival without finding ways to expand their rolls. But back in 2012, Harold Meyerson wrote in the American Prospect that "unions can no longer confine their organizing to workers they hope to represent in collective bargaining." At the time, unions like the SEIU and AFL-CIO had begun focusing more of their resources on grassroots political organizing.
Crusading for higher pay for all has been a logical next step. And the results so far show that, while the unions have plenty of problems, they also still have a bit of life left.