Economics of Ice & Fire I: House Tyrell Is Richer Than House Lannister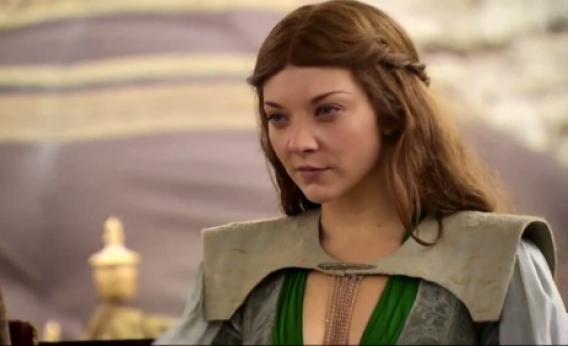 As you watch members of House Lannister and House Tyrell scheme for control over King's Landing here's something to keep in mind. The Westeroi conventional wisdom that that the Lannisters are the richest house in the Seven Kingdoms is dead wrong. House Tyrell is number one in all the ways that count.
To see why, just consider this observation from Warren Buffett in last year's letter to Berkshire Hathaway shareholders:
Today the world's gold stock is about 170,000 metric tons. If all of this gold were melded together, it would form a cube of about 68 feet per side. (Picture it fitting comfortably within a baseball infield.) At $1,750 per ounce – gold's price as I write this – its value would be $9.6 trillion. Call this cube pile A.
Let's now create a pile B costing an equal amount. For that, we could buy all U.S. cropland (400 million acres with output of about $200 billion annually), plus 16 Exxon Mobils (the world's most profitable company, one earning more than $40 billion annually). After these purchases, we would have about $1 trillion left over for walking-around money (no sense feeling strapped after this buying binge). Can you imagine an investor with $9.6 trillion selecting pile A over pile B?
Today all that gold would be worth only about $7 trillion so we can just say would you rather have a 68 cubic feet of gold, or all the cropland in the United States plus thirteen ExxonMobiles. The answer is, obviously, that you take the farms and the oil.
And in Westeros, the Lannisters have the cube of gold and the Tyrells with the rich farmland of the Reach have the real resources. You can't eat gold. You can't feed it to your horse either. Gold doesn't keep you warm during those lengthy winters. Gold is useful primarily because it's a convenient medium of exchange (who wants to carry all that wheat around) and a durable store of value (keeping a whole bunch of horses alive and healthy is itself a resource intensive process). So people with claims over valuable real resources will often end up accumulating gold. But though the Lannisters have more gold than anyone else, that's not how they got their gold. They just own gold mines.
Now don't get me wrong, you'd rather own gold mines than not own them. But the ability to pull shiny metal out of the ground is trivial compared to the power of a well-fed army. Imagine a scenario in which the Westerlands are out of food, and the Reach is out of gold. The Tyrells and their bannermen will need to curtail their consumption of luxury goods until they can manage to sell food for gold, but the austerity will be survivable if a bit unpleasant. The Lannisters, by contrast, are going to find that if they try to trade a whole big pile of gold for a whole big pile of food that the price of food will skyrocket. The illusion of Lannister wealthy is based on the idea that we can take the marginal price of an ounce of gold, then multiply that by the total quantity of the Lannister gold supply, and then conclude that the Lannisters are hyper-wealthy. In reality, any effort to mobilize all that metallic wealth will lead to inflation rather than the ability to mobilize vast quantities of real resources.
You can see this historically from the Spanish conquest of the New World and the ensuing influx of newly mined "treasure." This appeared to give the Habsburg dynasty a decisive wealth edge vis-à-vis its European rivals, but the Habsburgs' struggles with France led to the inflationary "price revolution" and ultimately the victory of a French state built on the control of real resources—productive agricultural land and a large population. My guess is that by the time the Song of Fire and Ice is concluded we'll see something similar. Real resources—not shiny gold—are the true test of wealth and the real source of power.