On Lip Sync Battle, the Lip Syncing Gets Lost in the Fog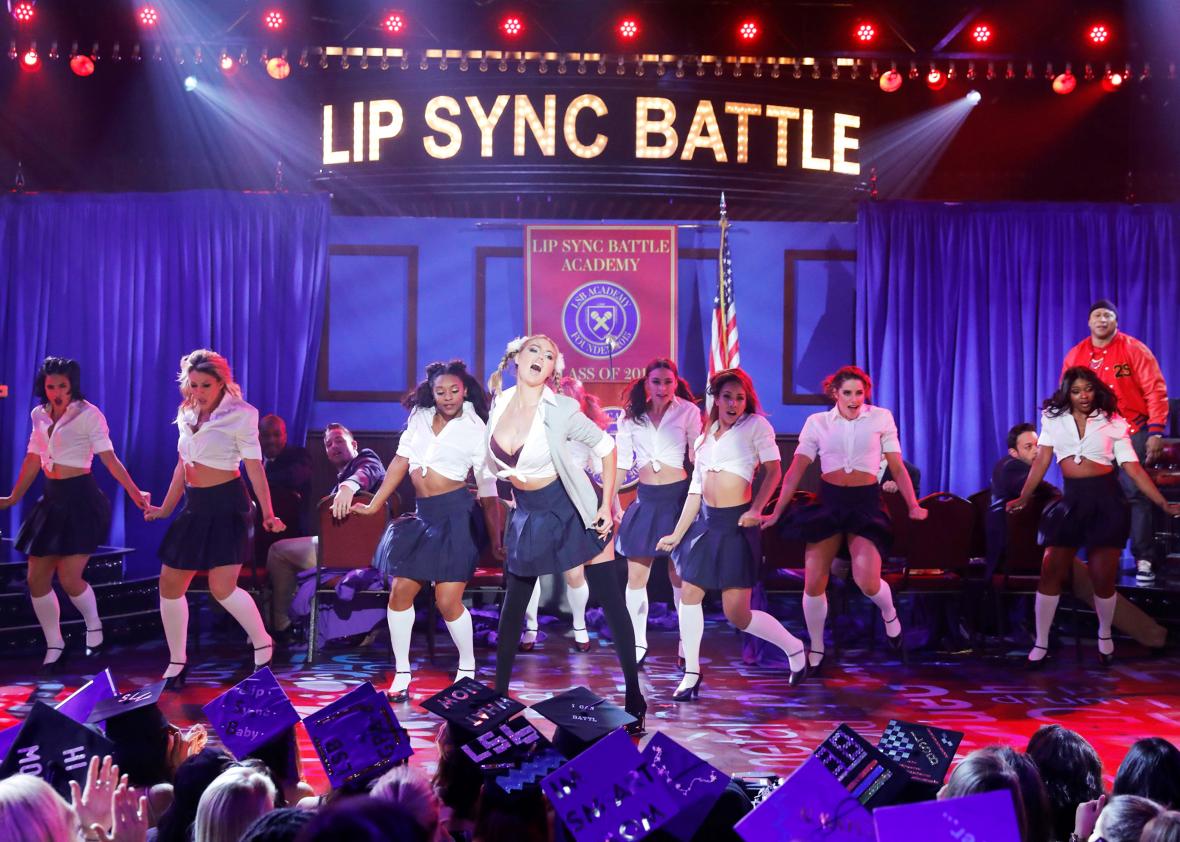 We need to talk about Lip Sync Battle, the inexplicably popular Spike TV show where celebrities mouth the words to their favorite hits. Hosted by L.L. Cool J, with swimsuit model/social media maven Chrissy Teigen as the "bartender"/sidekick, the show is, much like the equally brainless (and even more popular) Carpool Karaoke, a reliable source of viral content. Its 2015 premiere was the most-watched in Spike's history, and clips of the Rock and Channing Tatum lip-syncing Taylor Swift and Beyoncé songs have racked up 85 million combined YouTube views. But if celebrities demonstrating their enthusiasm for pop music has proven to be a potent formula for generating clicks, the content itself is largely a bore—a half-assed, overchoreographed mess that's high on self-congratulation but absent any sense of pizazz or surprise.
Sure, timelines everywhere lit up last week with clips of the newest Spider-Man, Tom Holland, bumping and grinding to Rihanna's "Umbrella" in a corset and patent booty shorts. It was an impressive effort—who knew Spidey had moves like that?—but the actual lip-syncing itself left so much to be desired. Amid costume changes, set changes, prop umbrellas, multiple sets of back-up dancers, pyrotechnics, and a backflip in falling rain, Holland lost track of the words about 45 seconds in and essentially just gave up on performing the actual song to focus on hitting his marks.
Created by John Krasinski and Stephen Merchant, Lip Sync Battle is a spinoff of a Tonight Show segment where preternaturally fun-loving host Jimmy Fallon lip-syncs tunes with celebrity guests. (Carpool Karaoke followed a similar route from the Late Late Show to Apple Music standalone.) Krasinski has said he thought up the idea, along with Merchant and wife Emily Blunt, while brainstorming things for him to do during a Late Night appearance, but that origin story doesn't erase the fact that LSB is at best a lightly modified copy of RuPaul's Drag Race, where contestants have been lip-syncing for their lives since 2009.
Both RuPaul and co-host Michelle Visage have described Lip Sync Battle as a "ripoff" of Drag Race. There's a whole dissertation to be written about the politics of appropriating a historically integral part of drag culture, draining it of all significance as subversive gender play, and then re-inserting drag back into it for titillation and shock value. (Salting the wound, a 2016 LSB episode featured NeNe Leakes miming to RuPaul's "Supermodel."*) But even ignoring the issues of appropriation and gender politics, Lip Sync Battle has become a big, overproduced mess that has almost nothing to do with actual lip-syncing. It's Dancing With the Stars without the training; it's karaoke without the guts; it's Halloween dress-up with a team of pros—only fun for the participants, not the viewers.
When Lip Sync Battle premiered on Spike in April 2015, the environment was casual—stars on an empty stage in jeans, drink in hand, perhaps a costume change in between numbers. But the ante was upped when Anne Hathaway tore off her track pants and leaped onto a prop wrecking ball to perform the appropriate Miley Cyrus ballad. Now it has to be upped every single time. Both Amber Tamblyn and Josh Gad dressed as Donald Trump (for "I Wanna Sex You Up" and "I Touch Myself," respectively). John Legend brought Stevie Wonder onstage to pretend-play the keyboards for "Hey Ya." Channing Tatum brought out Beyoncé herself.
The overcranked debacles of today's Lip Sync Battle stand in stark contrast to the best early performances, like Blunt's take on Janis Joplin's "Piece of My Heart." Blunt takes the stage in a goofy costume, but it's clear how well she knows the song, right down to Joplin's inflections. She expertly plays to the camera and the audience without missing a beat. Where LSB's current production numbers require wide shots to capture the elaborate sets and dancers, Blunt's no-frills performance allows the cameras to get up close and personal. She's willing to look silly, poke fun, and genuinely enjoy herself at the same time.
At this point, lip-syncing has fallen so far down the list of priorities that the show would more accurately be called Celebrity Halloween Music Video Dance Battle. Holland's competition last week was Zendaya, who nailed a simple performance of "Tyrone" by Erykah Badu. But for her rendition of Bruno Mars' "24K Magic" she emerged, along with an army of dancers, from a private plane amid enough fog to cloud the entire room. Did she nail the lyrics? Who knows?
Lip Sync Battle's lyrics problem has only gotten worse as the show has become increasingly driven by spectacle at the expense of actual performance. Often, the stars are left flat-footed and confused amid the dancers, sets, and celebrity cameos, like poor Sarah Hyland during a Barbie-themed take on the Pussycat Dolls' "Don't Cha," or Kate Upton during her wooden and jiggly version of Britney Spears' "... Baby One More Time."

On RuPaul's Drag Race, the contestants are judged on their knowledge of the lyrics in addition to how well they embody the emotion of the song. Sometimes, the more subtle performance will win because it's more appropriate, like Latrice Royale's soulful expression of "Natural Woman." While her competition, Kenya Michaels, twirled and spun around her onstage, Latrice stayed rooted in place, delivering a palpably passionate performance.
Lyrical mastery is so important on RuPaul's Drag Race that queens are often asked to sashay away when it's obvious they don't know the song well, including its meaning and subtext. Coco Montrese famously delivered Paula Abdul's blisteringly fast rap from "Cold Hearted Snake" while pointing at her mouth for emphasis. That was just one moment in an iconic showdown between Montrese and rival Alyssa Edwards, who has proven to be a lip-sync showstopper with her wild dance moves.
The true magic of the lip-syncing on RuPaul's Drag Race is the sense of unpredictability and spontaneity. It's just the queens, the stage, the song, and the judges. The only spectacle is what they create with their bodies and facial expressions. There isn't anything more thrilling than when a bit of surprising magic happens, like the moment of perfect serendipity like when LaGanja Estanja and Joslyn Fox both simultaneously fell into splits to the beat of Pink's "Stupid Girls." It's organic, unplanned, unproduced, unadulterated talent that displays how lip-syncing is a skill, not just a party trick.
Lip Sync Battle has outgrown its origins, offering the fantasy of true pop stardom to every model, actor, musician and athlete who's game to participate. (Did we really need to see Tim Tebow lip-sync "Eye of the Tiger"?) The show has become such a well-oiled machine, slotting already well-liked personalities into planned performances, buffered by choreography, costumes, and extras, that there's little actual risk remaining. Perhaps Holland's "Umbrella" struck a chord because there actually was a frisson of danger at hand: Could he really pull it off?
Lip Sync Battle may be beyond repair. The ante has been upped so high it can only come crashing down. The show would need to scale back to achieve any sense of soulfulness, genuine humor, or surprise, but more than that, it needs to restore the focus on the art form in its title. If you can't execute the lyrics, it's time to sashay away.
*Correction, May 18: Due to an editing error, this article originally misspelled NeNe Leakes' surname.