Why Was Rey's New Hairstyle Such a Big Secret? Here Are Some Theories About What It Might Reveal.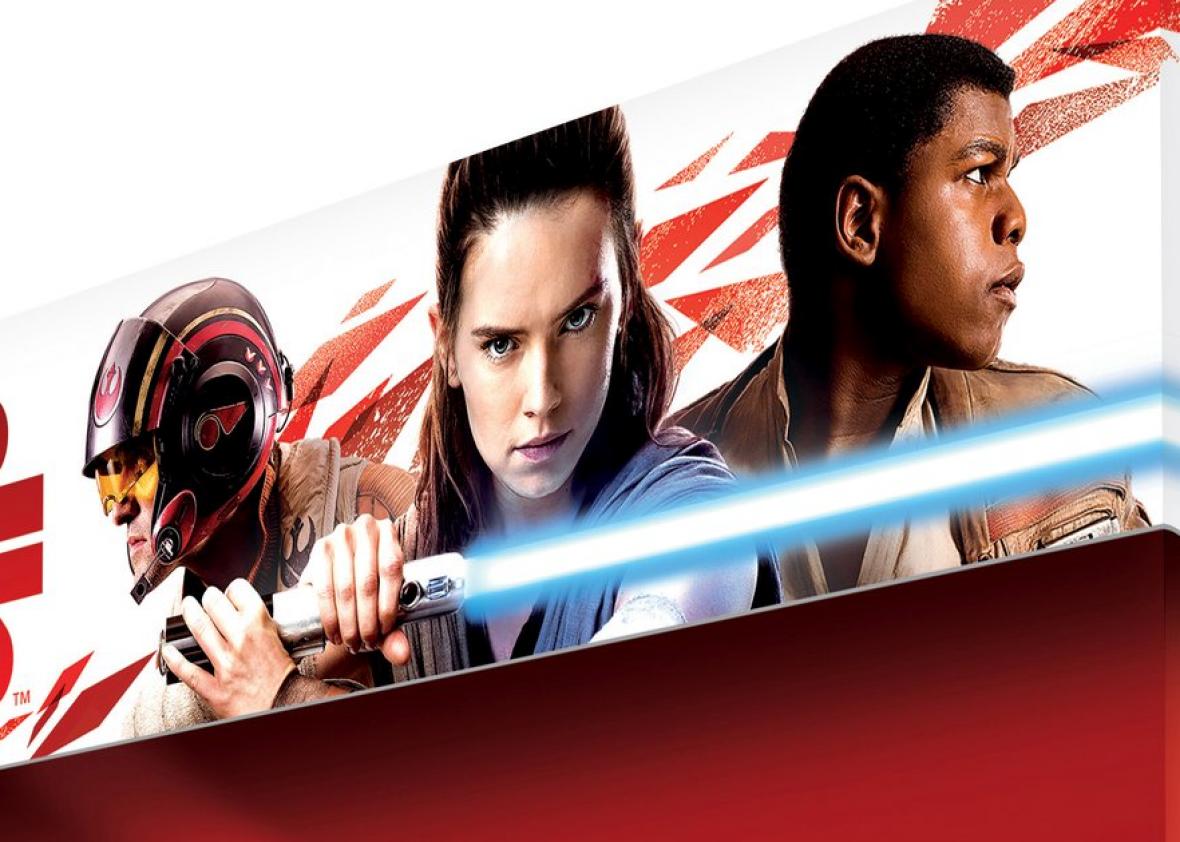 If you don't think that a photo of an empty toy box is enough to send Star Wars fans into a tizzy, then you really don't know Star Wars fans. The community has been abuzz ahead of Force Friday II, a fan event celebrating the launch of products for the next Star Wars sequel, The Last Jedi, over a glimpse of the packaging for the new film's merchandise.
The big reveal here is the new hairstyle being worn by Rey, who has traded in her triple-bun 'do for what looks like a half-up, half-down hairstyle. Why is this such a big deal? Because back in July, Rey actress Daisy Ridley posted a video of herself working out—and wearing a pillowcase on her head, "to protect my REY HAIRSTYLE from Instagram's gaze," she wrote at the time, following up with the hashtags #topemployee and #secrecyqueen, for good measure.
That suggested that Rey's new look has some kind of spoiler-y significance, too important to the plot or the character's development to let fans have a peek. So now that the style is out in the open, we took our best guesses at what it might mean.
Rey's hair is hiding a Padawan braid.
The mystery of Episode XIII's title is who, exactly, is (or are) The Last Jedi? The Force Awakens leaves off with Rey offering a lightsaber to Luke Skywalker. Was she once one of his pupils, before she was abandoned on Jakku as a child? Will Luke train her in the ways of the Force?
A lightsaber alone does not a Jedi make, so a good indicator of whether or not Rey is one of the last Jedi in question would be the presence of a Padawan braid, which indicates that the wearer is a Jedi-in-training. Rey's new longer, flowing hairdo might be concealing one.
Her hair is hiding no Padawan braid.
Then again, not every Jedi-in-training has a Padawan braid—Luke, who trained while the Jedi were nearly extinct, never wore one. But the absence of a Padawan braid could also be a spoiler in and of itself. Will Luke refuse to train Rey, even though she is Force-sensitive?
Rey is a Skywalker, and her hair reflects her heritage.
You know who else had any number of prominent hairstyle changes? Princess Leia, who switched between her famous cinnamon roll buns, crown braids, loose waves, and more. And Leia's mother, Padme Amidala, was the queen of the salon, changing hairstyles about as often as she changed outfits. Might Rey's new look be a nod to her ancestry?
Ridley is just messing with us.
Controlled leak culture has run amok, with studios shrouding even the tiniest nuggets of information in secrecy and fans pouring over any insignificant detail. Ridley is making a statement by creating a mystery where none exists, sending culture bloggers into furious fits of analysis over a toy box. And hey, look, it worked!
Rey is somehow related to Qui-Gon Jinn (Liam Neeson).