SNL Honored David Bowie by Re-Airing His Legendary 1979 Set on the Show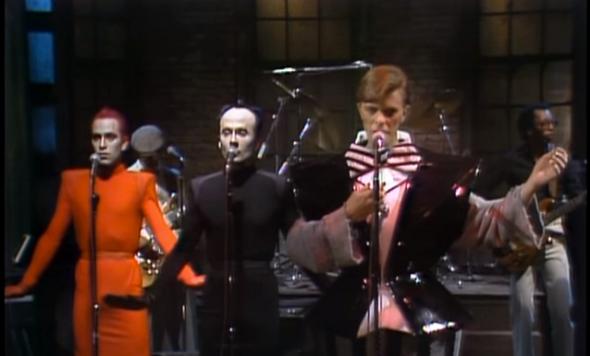 One of David Bowie's most eerie, inimitable live performances—which is saying a lot, given a career full of them—was the set he did on SNL, in 1979, at the juncture between his Berlin trilogy and the high-pop of Scary Monsters.
As a tribute to the late singer, SNL re-aired a clip of the appearance, along with a short introduction by Fred Armisen, who described the set as a "life-changing experience" that "transformed live television." It's hard to argue: Over the course of three songs—"The Man Who Sold the World," "TVC-15," and "Boys Keep Swinging"—Bowie radiates an alien and pioneering presence, his bold theatrics announcing the beginning of the '80s and a new era of artifice. His costume shifts from a plastic tuxedo to a pencil skirt to an enormous, bobbing marionette. Behind him stand Klaus Nomi and Joey Arias, the backup singers he plucked from New York's vaudeville scene, and maybe the only two human beings to match Bowie's strangeness. (Nomi would later use Bowie's tuxedo for his own album art). You can watch the full set below.