Why Is "Hello" No. 1? How Adele Formulated the Ultimate Comeback Song.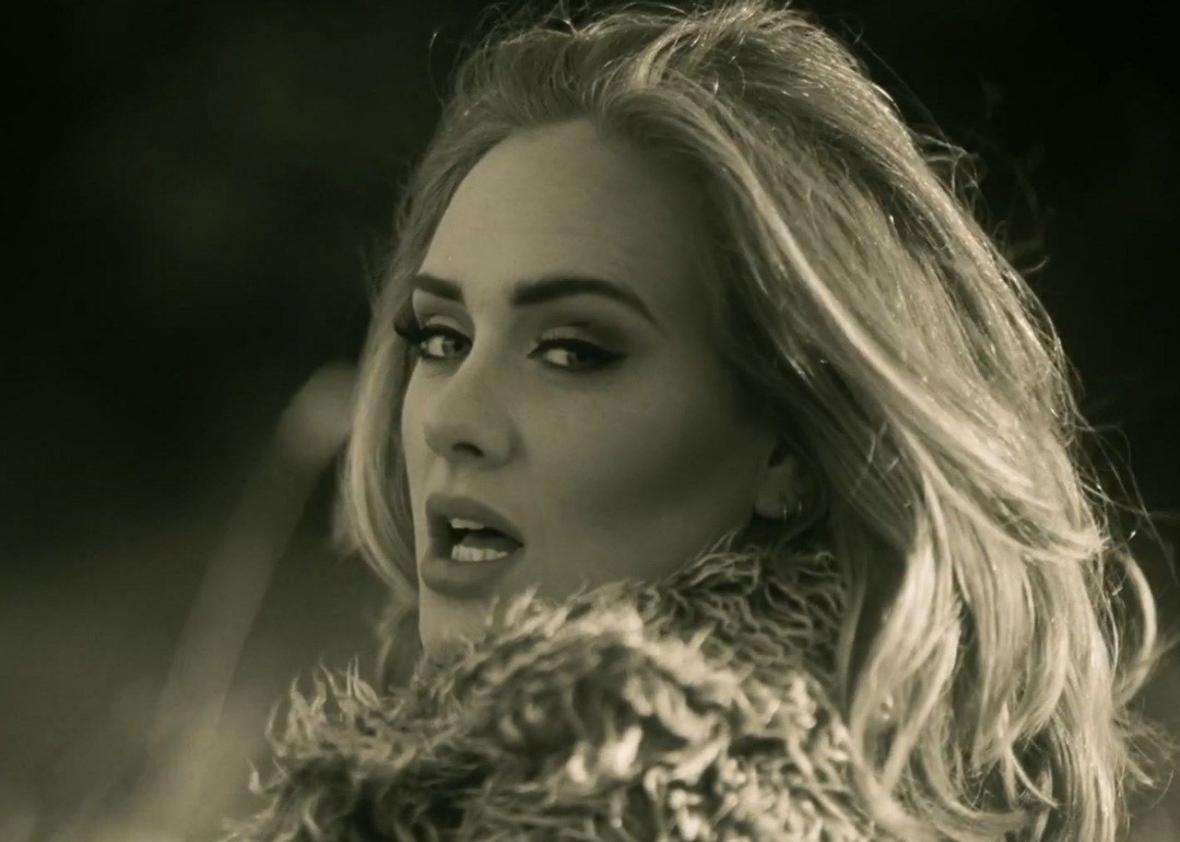 There's just such a moment in the music video for Adele's "Hello"—arguably the most watched film of the past week. (It was filmed, appropriately enough, in IMAX, by a Cannes-acclaimed director.) The big moment is when Adele finally comes in for her closeup. After spending most of the initial, music-less minute of the clip with her face teasingly just out of sight, she at last settles herself front and center. Her face spotlighted, her thick-lashed eyelids closed, she rolls her head on her neck and then, at 1:15, there it is: She opens her big eyes, to the toll of the first piano note, gazing straight into the camera: Hello, it's me. Shameless, knowing, effective—that's an entrance.

Yes, "Hello, it's me" is the actual opening line of Adele's new hit. Has a first single from a superstar album ever arrived more freighted with persona? Michael? Madonna? Whitney? Amateurs. None of them previewed a predestined blockbuster with a song quite as carefully branded, and instantly successful, as "Hello." The lead single from Adele's epically anticipated album 25 debuts on both the U.K. and U.S. charts at No. 1 with staggeringly large numbers. Since it materialized a bit less than two weeks ago, it's been said that Adele could have released any kind of song and it would have been a megahit. But that's only half-right. "Hello" is an out-of-the-box global smash because it is a quintessential product of Adele™, Queen of Heartbreak. Later in the song, she sings, "It's so typical of me to talk about myself/ I'm sorry," but let's be clear—Adele's not sorry at all, most especially for talking about herself.

It appears no one else is sorry Adele is talking about herself, either. Here in America, "Hello" commands Billboard's flagship Hot 100 with record or near-record returns in almost every chart metric: sales, airplay, and audio and video streams. "Hello" is the 24th song in Hot 100 history to debut at No. 1, and it's the second song to pull this off in 2015, coming less than two months after Justin Bieber's "What Do You Mean?" started on top. But "Hello" does it with numbers that make Bieber's look measly, roughly tripling the first-week sales and streams for "Mean." In the process, Adele even prevented Bieber from scoring back-to-back No. 1s with his followup hit—this week, the Biebs' new "Sorry" was forced to debut at No. 2 despite strong sales and video numbers. Like Drake's "Hotline Bling," which as predicted has peaked at No. 2 thanks to "Hello," Bieber's latest is collateral damage to Adele's cataclysmic return.
About those numbers: "Hello" set a one-week streaming record at on-demand audio sites like Spotify, and another record for first-day video streaming at Vevo/YouTube. It didn't set an all-out record at radio, but even there it's a remarkably fast airplay-gainer. Still, perhaps the most stunning data point is Adele's digital sales figure. At buck-a-song download sites like iTunes, "Hello" sold 1.11 million copies in its first week. That's not only a record, it's an obliteration of the prior high-water mark. Way back in February 2009, Flo Rida's club-pop hit "Right Round" sold 636,000 copies in its digital debut. Over the last six-plus years, that fairly random record-holder has proved oddly hard to beat. And then, here comes Adele, with a new one-week sales marker that's 75 percent higher than Flo's old record.
What's sort of crazy about this digital-song record is that song downloads in general peaked more than two years ago, as the public began its shift from digital sales to streaming. Scoring a "million-weeker" album is impressive enough (and 25 will do that easily), but Adele just pulled off the first-ever million-weeker single in digital history. It's also the fastest-selling single, period, since Elton John's Princess Diana tribute single "Candle in the Wind 1997." Selling a million song downloads in a week in 2015 is about as improbable a feat as releasing a diamond-selling album in the 2010s. Adele has now done both—defying music-biz gravity is her specialty.
It is difficult to overstate how world-conquering Adele's second album 21 was. At the risk of hyperbole, it really is the Thriller of the 2010s. Like Michael Jackson's 1982 opus, which was America's No. 1 album of both 1983 and 1984, 21 was the top-selling album of two consecutive years, 2011 and 2012. Like Jackson's album, 21 spun off multiple hits—fewer overall than Thriller (which produced seven Top 10s, two of them No. 1s) but more chart-toppers (three No. 1s for Adele, with "Rolling in the Deep," "Someone Like You," and "Set Fire to the Rain"). Most strikingly, like Thriller, Adele's album utterly dwarfs every other musical product released in its decade. Yes, even including Taylor Swift: Unlike Swift's quick-out-the-gate albums, which routinely sprint to a million copies in their first week and then eventually top out in the four-to-seven million range, 21 performed like a long-distance runner. After arriving in the winter of 2011 with about a third of a million in first-week sales, 21 took up residence in the Top 10 and stayed there for a year and a half. It never sold a Swift-like million in a week, but it eventually crossed 11 million. In short, nothing nowadays sells like 21 sold.
Following up a career achievement like 21 is crazy-making—Jackson is widely perceived to have gone a bit mad living in the shadow of Thriller. Adele appears to be handling the run-up to 25 with relative equanimity and poise. But by the evidence of "Hello," she is also well aware of what her brand stands for, and she is not leaving the relaunch to chance. Just as Jackson led off his 1987 Thriller followup Bad with the watery, fairly safe ballad "I Just Can't Stop Loving You," with "Hello," Team Adele has taken out an album-release insurance policy. Reportedly, 25 will contain songs more daring than its leadoff single: Longtime Adele collaborator Paul Epworth told Rolling Stone their goal on the album was exploring the "weirdest sounds" possible on a centrist pop-vocal album and not being so "anachronistic" as they were on 21. But "Hello," whatever its merits—a powerhouse vocal and a very memorable chorus among them—is not a pathbreaker.
Thematically and melodically, "Hello" is more or less a reboot of "Someone Like You." That iconic second single from 21, co-written by Adele with Semisonic's Dan Wilson, was actually something novel when it topped the charts in 2011: It became the first piano-and-vocal-only No. 1 in Hot 100 history, and it launched a roughly two-year wave on the radio of what I called "New Stark" ballads—from John Legend to A Great Big World.
Compared to most hit songs in late 2015, "Hello"—like "Someone," co-written with a poised male songwriter, journeyman writer–producer Greg Kurstin—is indeed stark, albeit a bit less so than its predecessor. For one thing, "Hello" features majestic drums, unlike the drumless "Someone." The more notable departure is in the lyric—"Hello" is "Someone's" mirror image. Where Adele was the wronged party on "Someone," singing with wounded pride about seeking a replacement for a now-married ex, on "Hello" Adele is the transgressor, one who's "sorry for breaking your heart." "Someone" was structured like a Dear John letter the singer never actually sent, while "Hello"—from its telephonic, Lionel-like title on down—is rather literally a voicemail message.
Of course, these are all interesting twists, but we're still talking about two songs in which Adele is belting to a former lover about why he won't talk to her anymore. Saying "Hello" is distinct from "Someone Like You" is like saying Road to Morocco is distinct from Road to Zanzibar. Adele has even recreated the most affecting chorus moment of "Someone," the break in her voice that telegraphs hurt: 2011's weepy "Don't forget me [crack], I beg," becomes 2015's "To tell you [crack] I'm sorry." (In both cases, the voice-crack might be the song's best hook.) There's nothing wrong with an artist owning her turf and burnishing her brand. It's what Whitney Houston was doing on her 1992 cover of Dolly Parton's "I Will Always Love You," taking back her mantle as America's premier vocalist and reminding fans why they first fell in love with her. But the Whitney song's unusual a cappella opening and cinematic bigness felt relatively new to Houston's fans at the time. For Adele fans, "Hello" is a favorite sweater from past winters they're happy to pull down off the shelf and snuggle in again.
Since she blew up four years ago, part of Adele's appeal has been the notion that she's an avatar of "authenticity" in modern pop music. But I and several other critics—even those of us who actually like Adele—would prefer to see an end to, or at least some nuance around, this idea. With her no-bullshit persona and delightfully unguarded cackle, Adele is certainly one of the least pretentious major pop stars we've had. As an artist, she clearly follows her heart. But the same machanations that power other blockbuster pop acts are hard at work in Adele's oeuvre, too, even if she sometimes presents herself with little more than a piano or an acoustic guitar. As the brilliant pop critic Maura Johnston wrote in 2011, "[P]ainting [Adele] as some sort of anti-selling-out princess is a snow job; there's a deliberate confusion of aesthetic … and the apparatus bringing that aesthetic into millions of iTunes libraries."
Indeed, the list of producers on 21 was almost as long as that on Katy Perry's last album. One of Perry's producers, the aforementioned Greg Kurstin, shows up on "Hello" and the forthcoming 25; another, Greg Wells, cowrote a 21 album cut with Adele as well as the early, casually homophobic Perry single "Ur So Gay." Among the people who've written hits with Adele are OneRepublic's Ryan Tedder—famed for hits for everyone from Leona Lewis to Jordin Sparks to Maroon 5—and Fraser Smith, who's handled tracks for British popstars Lily Allen, The Wanted, and Taio Cruz. Is Adele a better singer than any of the above artists? Pretty much. Does she bring out the best in these hitmakers? Reliably—Tedder's two tracks on 21 are probably the best he's ever had a hand in. And can she pen a tune all by her lonesome? She can. (So can Perry.) But all of these artists, Adele included, choose and craft songs with one eye on their public image and another on the marketplace.
What is admirable about Adele is that she knows her image of "authenticity," and the whole idea of "authenticity," are baloney, too—but she is not above having it both ways. And why not? It's her prerogative as a superstar, and "Hello" finds her owning that superstardom. It's far from her best song, but what's actually bracing about "Hello" is how it makes Adele's regal status plain. It's every bit as bluntly self-aware as its video: "Hello, it's me/ I was wondering if after all these years/You'd like to meet/ To go over everything." She might as well have titled the song, "Hello to My Global Public." All of Adele's songs have been, in some way, about Adele—but this may be her first song that's about itself. "Please," she implies, "do call it a comeback."