Why Do TV Characters All Own the Same Weird Old Blanket? A Slate Investigation.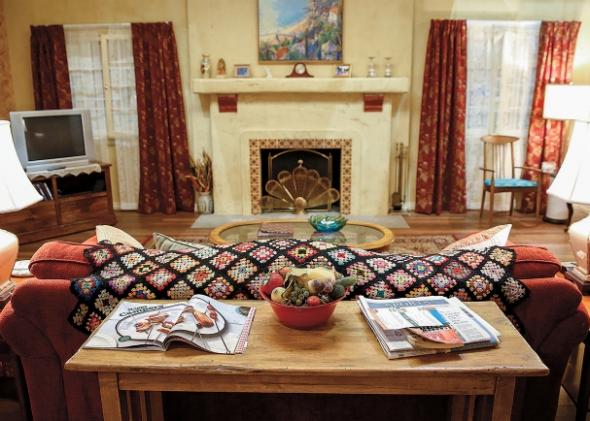 You've seen it before: the multicolored, crocheted emblem of TV Americana. It features discordant colors and a chunky weave. It's usually draped across the back of a sitcom sofa or at the foot of a bed. One day, I was watching The Big Bang Theory when I felt the tug of déjà vu. And the more I looked for it, the more I saw it everywhere. It turns out that this blanket has been a staple of television sets for decades—from Taxi to Roseanne to Mad Men to It's Always Sunny In Philadelphia to Jane the Virgin.
So how, I wondered, did these objectively unattractive afghans come to be an icon of the American domestic unit? How did some consensus emerge among set designers, across decades, in the face of changing trends in fashion and home décor, that this blanket was the one to use? I decided to investigate.
The granny square first rose to popularity in the 1970s. But it wasn't just blankets on couches—people were wearing them. "If you grew up in the seventies, as I did, you might fear the granny square—if only because, for a while, clothing was made of nothing else," writes Debbie Stoller in her book Stitch 'n Bitch Crochet: The Happy Hooker. "Granny square vests, granny square shorts, granny square hats. Heck, I believe there was some kid out there who was forced to go to school wearing granny square underwear."

The earliest show I could find featuring a granny square afghan is Taxi, which first aired in 1978. In Roseanne, the afghan draped over the Conner family couch is the set's most defining feature. And after the Conners win the lottery in Season 9, their afghan becomes more explicitly meaningful: In one episode, Roseanne confides in her daughter Darlene that she misses some of their old things, all of which they've donated to redecorate the house. Darlene reveals that she kept the afghan, takes it back out and tenderly drapes it over their new couch. The episode itself is even titled "Home Is Where the Afghan Is." When Darlene places that old blanket over their new couch, it's a statement about the family's identity and tradition.
The show's production designer, Garvin Eddy, grew up in Indiana, a similarly Midwestern setting to the show's setting in Lanford, Illinois.* In an email, he recalled seeing many similar afghans in people's living rooms throughout his childhood. Matt Williams, the show's executive producer, also grew up in Indiana, Eddy noted. (Photos of Williams' grandmother's living room were even used for research.) The specific afghan used in Roseanne came from a woman in Los Angeles who specialized in selling homemade items to antique stores.
"She brought me a large selection to pick from," Eddy wrote. "I was partial to granny squares since my wife crocheted several for our own use."
Eddy chose two afghans—one was a backup. As the show ran, the prop master had to keep the afghan locked up until shooting to make sure it didn't get stolen.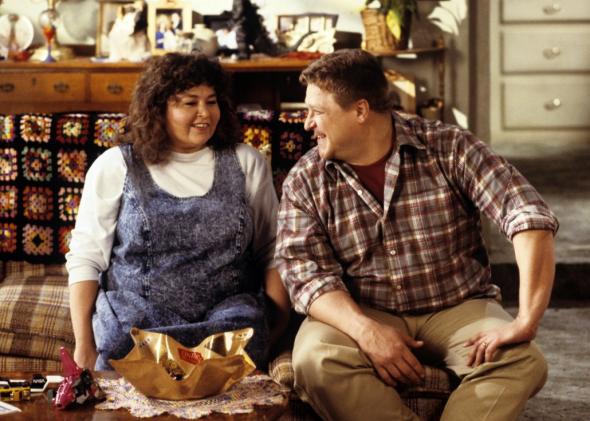 "We eventually had to actually stitch it to the sofa as it became so iconic, it would certainly have been stolen," Eddy wrote. He added that when the show finished, the sofa and afghan both went on display at the Smithsonian for a time.
"In all of the thousands of TV show sets that I have designed over 42 years in Hollywood, no other piece of set dressing has gotten as much attention," Eddy wrote. "Apparently it is the paragon of Americana."
Then I reached out to Big Bang Theory set decorator Ann Shea, who explained that the throws are popular with set decorators because they have "great texture, color and lots of character." The similarity between Amy's afghan and the one used on Roseanne was completely unintentional, Shea told me, as she never watched the show. The blanket was just meant to bolster what we already know about Amy: She marches to the beat of her own, very odd, drummer.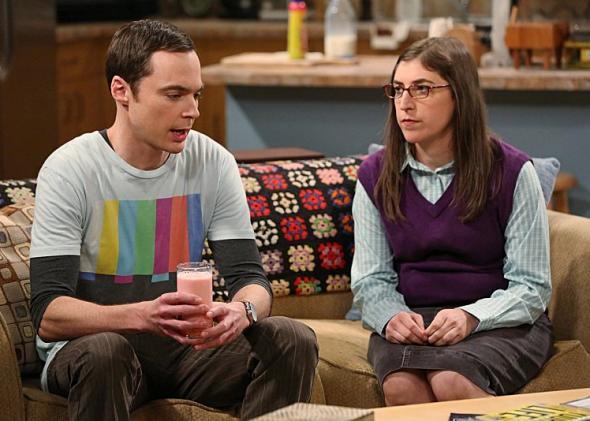 "She is completely oblivious to current trends," Shea wrote. "She just chooses things for functionality more than anything but would gravitate toward the more geeky, nerdy, dowdy things naturally. She seems sentimental, and it is also something her grandmother could have given to her."
But on TV, these blankets are not just for Midwesterners and dowdy nerds—they're also for "artsy" types. Take the orange granny square afghan on Dee's couch in It's Always Sunny. Michael Scott Cobb, a set designer who worked on seasons 1 through 10 (with the exception of Season 3), described Dee's style as "funky, artsy, and eclectic, although equally inexpensive and 'low-rent.'" He added that the set was always meant to look "a bit depressing" to contrast with the show's jokey writing.
"I wanted it to look as if the furniture was found at garage sales and donation centers, including things that would give it a 'home-sweet-home,' comfy-vibe," Cobb wrote. "Upon a tired sofa we placed a granny square afghan—in part to cover what would be age and not quite washed-out stains, but also to evoke the idea of late-night tv watching and eating junk food with grandma's old hand-me-down blanket."
Cobb added that shows gravitate toward these blankets because of the memories they conjure: "Someone spending hours making one, giving them out at holidays, weddings and births."
Justin Lieb, the show's current set decorator, agreed that the afghans are used to impart an "implied sense of history—writing a mini backstory in our minds that it's a sentimental talisman gifted by a grandparent, say."
In Jane the Virgin, the Villanueva family is as close-knit as it is traditional—so it's only fitting that they have a granny square afghan on the back of their couch. And in this case, set decorator Ellen Totleben also has a backstory for the blanket, which she imagines originally belonged to the show's oldest matriarch: Jane's beloved abuela, Alba.
Totleben said that, as she envisions it, the Villanueva house was originally decorated by Alba in the '70s—which would certainly explain the granny square. The Villanueva house is meant to feel very homey, in contrast to most of the other spaces in the show, like the Marbella Hotel, which rely on cooler palettes to create a colder, more modern look. The warm colors found in both the Villanueva's home and their afghan tell us something about them: They're good, decent people, in a sea of cold, calculating ones.
"We didn't want to hit people over the head with stuff, but we wanted to make it feel very welcoming and warm compared with the sets for the bad guys," Totleben said.
Totleben also pointed out that from a technical standpoint, the blankets are an easy way to break up the block of solid color that couches often create. But most of all, they immediately evoke "family." When Totleben saw the afghan in a prop rental house, she thought: 'Well, this must be a Better Homes and Gardens pattern or something like that. Because everybody has it!" But she also recalled a granny square afghan from her own past: "It was exactly," she said, "the pattern my grandma had."
Correction, July 6 2015: This post originally misstated that Roseanne takes place in Indiana. It takes place in Illinois.