Jazz Pianist Robert Glasper on His Role in Kendrick Lamar's To Pimp a Butterfly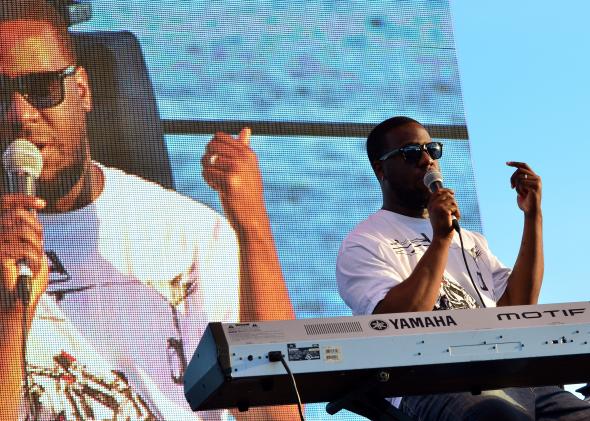 Robert Glasper may not be a big name in pop music, but the chances that you've heard him are growing by the day. Although he's primarily a jazz pianist, he's recorded with a wide range of rappers and R&B artists, including Common, Erykah Badu, Jill Scott, Norah Jones, and Snoop Dogg. And this month he appeared on one of the year's biggest hip-hop albums, Kendrick Lamar's To Pimp a Butterfly.
Even though the genres are deeply interrelated, there aren't many examples of jazz musicians playing live on hip-hop recordings. (A few major exceptions: Ron Carter's bass on A Tribe Called Quest's "Verses From the Abstract," Maceo Parker on De La Soul's "I Be Blowin'," and trumpeter Olu Dara playing with his son Nas on "Life's a Bitch.") But Glasper's contributions to Butterfly aren't just prescribed background lines. We spoke with the pianist by phone about what it was like to work with Lamar and what he brought to the album.
How did you get involved with Kendrick's album?
Terrace Martin [a writer and producer on To Pimp a Butterfly] and I were friends since high school. So when he was working on this Kendrick album he brought me in for specific songs. It was actually track No. 2 ["For Free"].
This was in December. I was in LA recording for my next project, a trio album called Covered. That whole weekend was crazy. The first night, I finished my record and I went next door and had a jam session with John Mayer for about an hour and a half. Just me and him, duo. … And then the second night, Terrace called like "Yo. After your recording, can you come over and do this Kendrick song."

So I went over there, and it was so funny because on my record I'm not doing any straight-ahead jazz. You know, not swinging. But then the first thing I do when I walk into this hip-hop session is like straight-up, straight-ahead jazz. So that's the ironic thing.

What sort of direction did they give you?
I asked, "What kind of vibe do you want?" Terrace was like: "Straight up, Kenny Kirkland, Branford [Marsalis], late '80s." And I knew exactly what he was talking about. I mean, that's what we grew up on, that kind of jazz. … I did like one take or two takes, but he was like, "Nah bud, dig in. Don't worry about a thing, don't think of it like a hip-hop thing or anything like that. Really dig in, like you're hitting at the [Village] Vanguard or some shit."

But then, once I recorded it, Kendrick had a great idea. There's a part [in "For Free"] where he starts this pattern [around 1:43 in the song]. So he asked could I do something to complement that. So then I went back in on it again, and I started playing these chords to go along with it. …
I was actually thinking of it like he was a saxophone player, you know what I mean. Not like a singer or an MC, but literally like a saxophone player, it was like some jazz shit. So it was dope when he said "Hey, do this." I didn't want to do too much, you know, because I wanted his shit to be heard. And he was like, "Nah, do this on that part." And I was like, "Wow. That's something I would've done anyways if you were a saxophone player, but I was trying to be a certain way with it." And he was like, "Nah. Do that shit."
This was the first time [Lamar] was seeing me sit down at the piano and play. So then, once I played that song, he was like: "Oh, snap! This is dope."
What did you do on the last track, "Mortal Man"?
The first part, which is just the song, was one of the first nine songs I played. Then in February I came back, that's when Terrace wrote that suite [which includes Kendrick "interviewing" Tupac]. And we were in the studio for two days doing that suite. And then he put those two together. … But I didn't know what was happening, none of us heard that interview. We knew talking was going to be over it. But I didn't know what it sounded like. They weren't allowed to have copies. It was that kind of thing.

What about "Complexion (A Zulu Love)," another track you're on?
On "Complexion," I kind of changed up the chords a little bit, and I just kept playing when the music stopped. And when I came back into the booth, Kendrick was mad hyped. He was like, "Oh my god, I love that part!" … So they made another whole thing to it, with another beat, and they put [the rapper] Rapsody on it.
You're also credited on "The Blacker the Berry."
Kendrick wanted to come up with ideas for the intro of the album. So Terrace got me, [producer] Thundercat, [and] Ronald Bruner Jr. on drums, to just try to come up with some kind of intro stuff. He had all these different ideas, and I came up with some ideas. And he said "I'll play them for Kendrick. If he likes them we'll put them on the beginning of the album." He didn't use any of them on the intro of the album. But he used a part of something I came up with and just threw it on the end of "The Blacker the Berry." The song actually abruptly stops, and then this one part comes in with real drums, real Rhodes, and bass, and Lalah Hathaway singing. It's dope. It's like an interlude. But he put it on the song at the very end.

I really had never heard it. So when Kendrick leaked it, I got all these tweets. Everybody was saying, "Yo Rob, are you on this new Kendrick album?" I was like, "Yeah, but I don't know what I'm on." And then I finally heard it, when it got leaked, and I was like, "Oh shit." And that was actually like the sound check of that session, you know.
As a jazz musician, what's it like working with different rappers in the studio?
I'm very familiar with Q-Tip's process. I'm very familiar with Mos Def's process. I'm very familiar with Lupe [Fiasco]'s process, Common's. All of those guys are very much in tune with the music and what's happening. They'll say, "Hey, do you think you could take the snare out on this part? And maybe you can come in with the chords on this part?" … They understand music to the point where they know how to make each thing complement each other. Because a lot of times guys are just like, "Where's the beat? Aite, Imma rap." Y'know? But those cats are not like that. Kendrick will be like, "Yo, take the high hat out on that part and bring it back in on this part." It has a different effect.
And it's in his flow, too. He reminds me of different instruments. Because on this album, I think this is the best album that shows how diverse he is. Because he doesn't sound the same on every song. You know, some rappers, you know what they sound like, you know their cadence, and this is what it is, and you hear them on every song. But every song on this album, he sounds like a different person. And that's so dope.
He literally sounds like different instruments to me. I really think sometimes he sounds like a trumpet and sometimes he sounds like a saxophone. In just the way he phrases. It's really crazy. So it definitely gives me jazz. He's very in the moment. He's not playing the same thing over every song. He's taking a solo.