The Oscars Can't Joke Its Way Out of Its Race Problem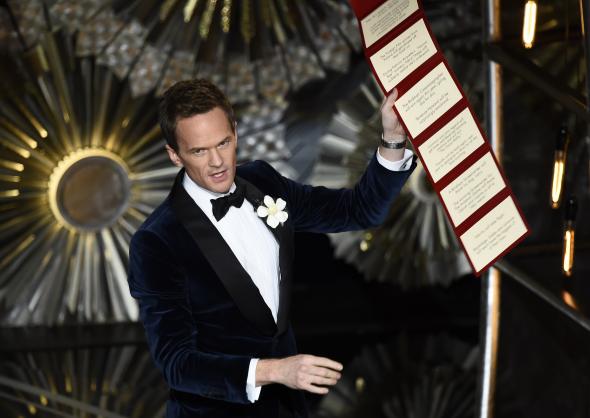 Neil Patrick Harris (and his writers) didn't waste any time last night: In his duties as ringmaster for the Oscars, he opened the show with a crack about how the nominees this year were (in the words of Twitter) #sowhite. "Tonight we honor Hollywood's best and whitest," he began, before correcting himself, "Sorry, brightest." In a way, this shouldn't at all come as a surprise—Harris had already made a similar joke a few weeks back on Twitter, to both widespread LOLs and approving RTs.
Yet for all the raves about this opening, the joke may ultimately ring hollow to anyone genuinely frustrated by the academy's overwhelming lack of diversity. The sad truth is that this well-intentioned attempt to stick it to the man was no less old hat than the academy's whiteness itself—and the one-liner was especially defanged when folded into the nightlong celebration of the industry. We get it—the Oscars are very white this year, haha. But if we continue to laugh about it, are we really more or less likely to rally for the needed change?
For those who follow this discussion closely, every year brings a feeling of déjà vu, whether the outcries are a little bit louder (as with this year, which marked only the second time in almost 20 years that all the acting nominees were white) or more tempered (as with last year, when the wins for 12 Years a Slave and Lupita Nyong'o overshadowed the fact that other strong contenders about black stories didn't even make the cut for a nomination). And while discussing Selma's baffling snubs in almost every major category except Best Picture, some anonymous voting members of the academy proved that they do indeed hold questionable assumptions when it comes to race and the movies. ("It's almost like because [Ava DuVernay] is African-American, we should have made her one of the nominees. I think that's racist. Look at what we did last year with 12 Years," said one. And another: "I've got to tell you, having the cast show up in T-shirts saying 'I can't breathe' [at their New York premiere]—I thought that stuff was offensive.")
And so it was hard to keep my eyes from rolling far into the back of my head when white people there to celebrating the evening kept trotting out jokes about the Oscars' race problem without offering much that seemed to take it seriously. This especially soured when, as Slate's Willa Paskin points out, the writers again and again "pull[ed] black actors into not great bits" where they were condescended to in an apparent attempt to try and pull off diversity. There was, of course, the weak Octavia Spencer bit (in which the Oscar-winner for The Help had to obediently serve Harris for the entirety of the night by helping with a magic trick). And there was the attempt to include would-be nominee David Oyelowo in a gag, which involved Harris setting him up to read a joke ostensibly because he was "British" but which turned out to be a dig at the Quvenzhané Wallis-starring remake of Annie. (Would they have had a white Englishman read this joke?) As for Oprah, the producers cut to her again and again, asking her to cheer and mug and hold a LEGO Oscar—which was little consolation when in the Best Supporting Actress category she was left without a nomination for a real one.
All of this is reminiscent of Saturday Night Live's often-floundering attempts to joke away its diversity problem through self-awareness rather than any actual action. After an uproar over the casting of six new all white cast members in 2013, SNL creator Lorne Michaels made a cameo during the sketch "New Cast Member or Arcade Fire?" Responding to that question, he referred to long-time cast member Kenan Thompson and delivered the cringe-worthy punch line, "Is it the black one?" In a later episode, the show at least showed more cleverness when it asked host Kerry Washington to play every black female character in one scene, but the tone of all these jokes still seemed to say, "Yes, we're aware we've mostly only hired white people for our show—but maybe if we poke fun at ourselves for it, you'll leave us alone?"
Since finally hiring more people of color behind the scenes and in front of the camera in the last year and a half, SNL has continued to make sly, increasingly tired jabs at its history of overwhelming whiteness, most recently during last week's 40th anniversary special. Said Steve Martin: "Tonight is like an enormous high school reunion—a high school that is all white." (In a strained exchange between Jerry Seinfeld and former cast member Ellen Cleghorne, even Seinfeld's old sitcom came in for some ribbing.) In light of the increased presence of non-white folks on SNL, these jokes are as anodyne as ever, and yet the show has gone on making them. They seem to need no encouragement to crack wise about this out on stage, but it took weeks and weeks of sustained criticism to get them to expand their idea of who and what can be funny behind the scenes.
The academy could learn from this: All this joking in front of the curtain doesn't make up for whatever's going on behind it. And on an even larger scale, the producers and executives who have the greatest control over what movies get made and who gets cast in the first place (that would be the likes of former Sony head Amy Pascal, who was caught in the Sony leaks making arguably racist remarks) could stand to do the same. The evening's uncomfortable handling of race came to a close when Sean Penn announced Mexican-born Alejandro González Iñárritu as Best Director, by first wondering aloud, "Who gave this son of a bitch a green card?" For the record, Penn, who starred in the director's 21 Grams, was "joking," and Iñárritu apparently took it as such. But the moment was just one more needless example of "hipster racism" at its finest—the well-meaning majority "calling attention" to racial disparities while quietly patting themselves on the back.