Rihanna, Kanye West, and Paul McCartney Go Country in "Four Five Seconds"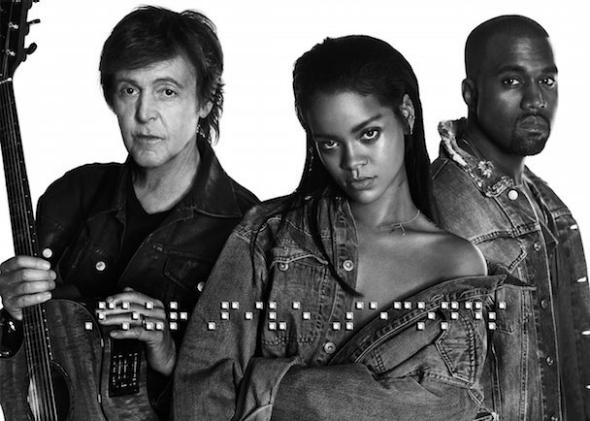 Earlier this week, Kanye West made a surprise appearance at the iHeartMedia Music Summit to preview a new duet with Rihanna. That song, "Four Five Seconds," has arrived online, and though it's unclear whether it will feature on West or Rihanna's new album, it marks a striking departure for both artists.
Paul McCartney supplies some gentle acoustic strumming as West and Rihanna belt out a deeply personal, hugely melodic, and country-tinged tune about heartbreak and redemption. It's only the second new Kanye song we've heard, but it's worth noting that it shares a few traits with "Only One"—sensitive, confessional songwriting, sparse and acoustic instrumentation, and not a drum beat in sight. The track can be streamed above or downloaded on Rihanna's website.