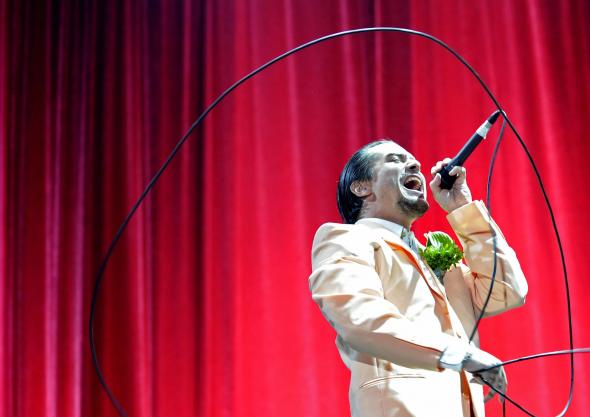 Faith No More broke up in 1998 following a nine-year stretch in which they recorded four well-received albums, starting with The Real Thing and ending with Album of the Year. The band's origins go all the way back to 1979, but it was a decade after that when Mike Patton became the group's frontman, and he provided the very memorable vocals on all their 1990s albums.
In 2009, they reunited for a series of concerts. Then, in September, bassist Bill Gould told Rolling Stone they were working on a new album, to be released on Patton's label in 2015. Now the first single is here—and it definitely sounds like a Faith No More song, with alternating rap-singing and Patton-wailing over a military-style drum beat with cooing backup vocals and crescendoing power chords heralding a guitar solo that arrives a little over two minutes in.* It's got a Faith No More title, too: "Motherfucker." You can hear it below.
* Correction, Nov. 19, 2014: This post originally misstated that Mike Patton did the rap-singing on Faith No More's new track. The rapping is by the keyboardist Roddy Bottum.