Drake's Three New Songs Are an Exciting Glimpse at the Direction of His Forthcoming Album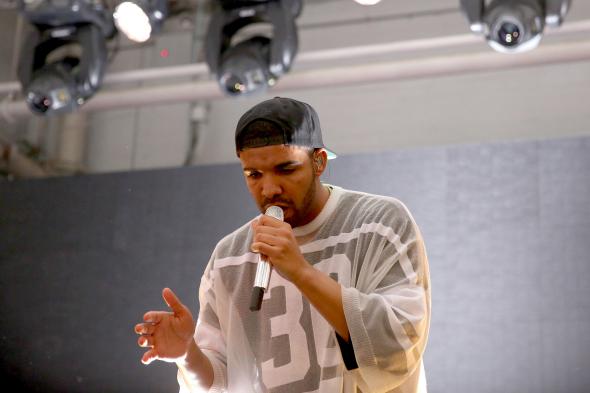 Drake's had a pretty quiet year. To be fair, "quiet" is a relative term for one of the most overexposed rappers in the industry, but fans have had little to chew on as they pine for his new album, Views From the 6, which is due next year. Earlier this week, a song rumored to be from the record—"How Bout Now"—leaked. Most copies were taken down immediately, but take heart: to thwart hackers, Drake's dropped not just that song but two others—"6 God" and "Heat of the Moment."
The best of the three is "6 God," a propulsive ego-anthem that has Drake flow over a trap beat and frenzied synth-horn riff. With its rapid-fire mixture of braggadocio (Got me feeling like a ball hog/I don't pass it when I get it") and wizened street-savvy ("I'm not new to this"), the track continues an ongoing thematic arc in Drake's work, one obsessed with establishing his tough-guy, started-from-the-bottom bona fides.
"How Bout Now," which like "6 God" was produced by Drake favorite Boi-1da, features a more familiar Drake theme: the failed relationship. Built on a very catchy Jodeci sample, the song is about a girlfriend Drake had when he "had no money left from acting" and was "focused on the music." It's a touching, expertly detailed reminiscence that showcases some of the vulnerability and candor that set Drake apart from other rappers.
"Heat of the Moment" is the most languorous of the three, a sultry ballad set over a molasses-like beat. Fans of cuts like "Marvin's Room" will enjoy its laid-back groove, though it's unlikely to find much radio play given the lengthy telephone-call outro.