The Very Funny Comic Who Just Became the Next "Weekend Update" Anchor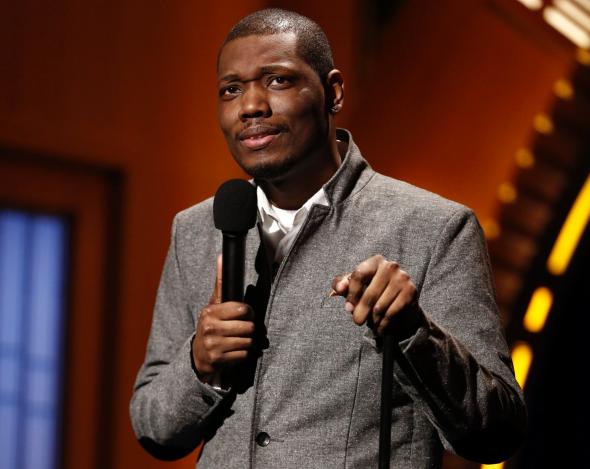 On Thursday night, Lorne Michaels surprised comedy fans by revealing to Bill Carter of the New York Times that Cecily Strong had been replaced on "Weekend Update" by Michael Che for Season 40 of Saturday Night Live. The announcement was surprising for a few reasons. Strong, who began last season by co-hosting the segment with Seth Meyers, was certainly a better anchor last year than Colin Jost, who replaced Meyers when the latter left for his own show halfway through the season.
Whatever the future holds for Strong, it is obviously bright for Che, as has become increasingly clear over the last two years. I first saw him perform in June 2012, as the first person up at an alternative comedy show in Brooklyn. No one seemed to have heard of him. (I hadn't.) But I suspect I was not the only person who left that night talking about how he was the funniest person there. A few months later he was on Letterman and was profiled in the New York Times. He got hired to write on Saturday Night Live and then was picked up as a correspondent on The Daily Show. You may have seen his funny bit about finding a safe place to deliver the news as a black reporter.
Che only began doing stand-up in 2009, at age 26, after flaming out as an independent T-shirt designer. As Brian Koppelman discussed with Mike Birbiglia on his podcast The Moment, that fairly fast rise has inspired jealousy among some comics. But Che seems well-suited to the Update desk. As a stand-up, he's more a joke-smith than a storyteller, and he gets a lot of mileage out of a droll delivery style that can make even so-so material pretty amusing. A lot of his material, which he has honed with a fairly grueling performance schedule, is much better than so-so. Two years ago, he won me over with jokes about how, growing up in a Lower East Side housing project, he couldn't complain about not having enough—because his homeless friend Dave had even less.
Later I saw Che kill at the Comedy Cellar with a joke about how he prefers "like" to "love," a routine that made it into that New York Times profile:
"People kill their loved ones all the time. Nobody ever kills people they like, though. Nobody's watching you sleep through your bedroom window because you're 'pretty cool.' "
Che and Jost will be the first all-male duo of "Weekend Update" anchors. (Che will also be the first black cast member to regularly man the Update desk.) Whether that setup works or not only time will tell. But for now, at least, starting on Sept. 27, Michael Che will get to introduce himself to millions of American every week—a special privilege of the Update desk, as Tina Fey noted a few years back.
… it's the only segment week after week where you look directly into the camera and tell America your name … you see the sketch players in wigs, and if they're new, you go, "Wait, which guy is that?" On Update, you look like yourself, and every week you say, "Hi, this is me." So it's career-changing.