Everything You Need to Know About the "Shmoney Dance"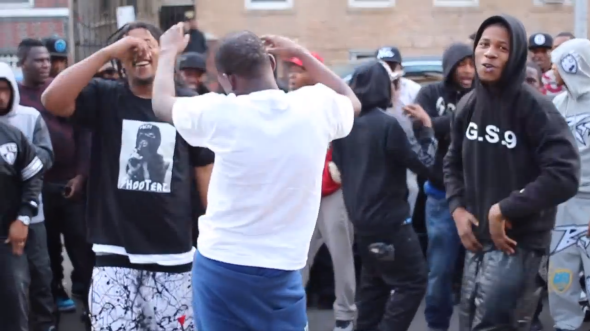 Last Friday and Saturday, Beyoncé and Jay Z brought their behemoth On the Run tour to New Jersey for two nights at MetLife Stadium. Both shows delivered on the hype teased in their RUN trailer back in May: They tore through more than 40 of their hits, donned jaw-dropping haute couture costumes, and performed amidst an array of stunning stage designs that included several vignettes done in the style of film noir.
But despite all those high-concept attractions, among the most talked about moments from Friday's show were two seemingly off-the-cuff nods to one of New York hip-hop's fastest rising viral sensations, the Shmoney Dance. What is the Shmoney Dance?
It's a somewhat indistinct riff on the classic two-step that was popularized by the little known Brooklyn rapper Bobby Shmurda. Back in March, Shmurda uploaded a video to YouTube for his single "Hot Nigga." It depicted him smoking joints on top of a car and drinking from a Styrofoam cup. It did not seem especially noteworthy. But there's a moment at the video's 2:20 mark in which Shmurda tosses his Knicks hat to the ground, turns his back to the camera, and begins twisting his back and arms with a nicely articulated swagger.
The video was popular, getting about 450,000 views in three months, as Complex notes—considerably more, at the time, than an earlier video for the song "Shmoney Dance" by Rowdy Rebbel featuring Bobby Shmurda. But when someone put that particular clip noted above on Vine, both the video and the Shmoney Dance took off. The original video is now nearing 2 million views, with dozens of parody videos popping up on YouTube and Vine everyday. Meanwhile, Shmurda says he's since received attention from better known rappers like Fabolous, Yo Gotti, and Meek Mill, with whom he recently performed in Miami.
The dance seems to have gathered momentum in part because of its versatility, with fans pointing out that you can do its moves to just about anything. See, for example, the mashup with D'Angelo's "Lady."*
Or this one with Total's "Can't You See," which has been looped over 500,000 times:
But likely the biggest co-sign that Bobby Shmurda will get came on Friday, when Beyoncé surprised fans with her own spin on the Shmoney Dance during the dance breakdown in her performance of "Flawless." Later in the show, Jay Z gave his own shout out to the young rapper by changing a verse in "FuckWithMeYouKnowIGotIt," from "Come money dance with the good fellas" to "Come Shmoney Dance with the good fellas."
It was a surprising moment—but perhaps it shouldn't have been. Beyoncé has made a habit of nodding to viral dance moves, incorporating the Nae Nae and Stanky Legg, for instance, into her routines.
Will the Shmoney Dance become as ubiquitous as those earlier crazes? If Beyoncé and Jay Z keep doing it, I'd bet on yes.
*Correction, July 15, 2014: Due to an editor's error, this post originally included a Vine with the Jodeci song "Come and Talk to Me," rather than D'Angelo's "Lady." The Vine has been replaced.