Jay Z and Jay Electronica Take on Drake's "We Made It"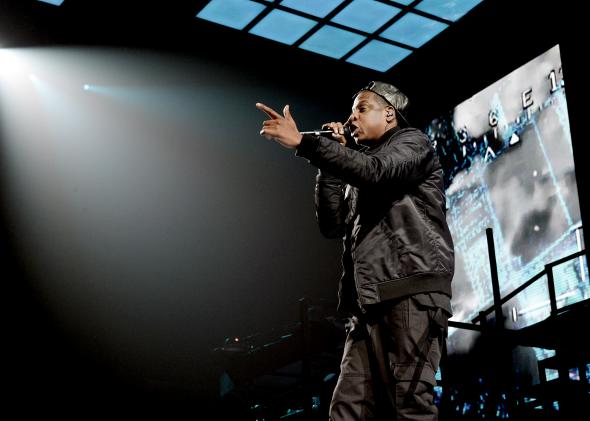 Though it might appear to those excluded from Jay Z's inner circle that, in his spare time, the entrepreneur spends all his days sipping D'USSE with Beyoncé, performing at Samsung-sponsored SXSW showcases alongside Kanye West, and chasing down sports giants to add to his clientele, he apparently still keeps abreast of pop-culture news. So when last month Drake offered a snide critique of Jay Z's lyrical subject matter, telling Rolling Stone, "It's like Hov can't drop bars these days without at least four art references! I would love to collect at some point, but I think the whole rap/art world thing is getting kind of corny," Jay Z noticed.
Delivering arguably his best verse in years over Drake and Soulja Boy's "We Made It," Jay Z responds to Drake in a new freestyle uploaded Sunday featuring Roc Nation's most elusive signee Jay Electronica. "Sorry Mr. Drizzy for so much art talk/ Silly me rappin' 'bout shit that I really bought," Jay Z mocks the Toronto rapper, referencing the wealth—an estimated $43 million earned in 2013 alone—that afforded him his prestigious art collection. Keeping the boastful momentum up, Jay Z draws parallels between Lupita Nygon'o's Oscar and his rags-to-riches story, saying, "I'm on my Lupita Nyong'o/ Stuntin' on stage, got the 12 Years A Slave/ This Ace of Spades look like an Oscar."
While Jay Z's the obvious headliner of "We Made It," Jay Electronica matches his mentor with an intricate verse that ties together Islam ("Lost sons of Muhammad, we wildin' in the wreckage/ Asha du illah illaha is the message"), slavery, and ancient Egypt ("Face all on the Sphinx/ Story all in the wall of the pyramids") through an Afrocentric historical lens. "We Made It" comes just a week after Electronica released "Better in Tune With the Infinite," his first new music since last year's "Control" with Big Sean and Kendrick Lamar. As Electronica begins to up his output, the odds on the long-awaited sequel to his debut mixtape Act 1: Eternal Sunshine (The Pledge) look better than ever.