Is That Pizza They Had at the Oscars Any Good?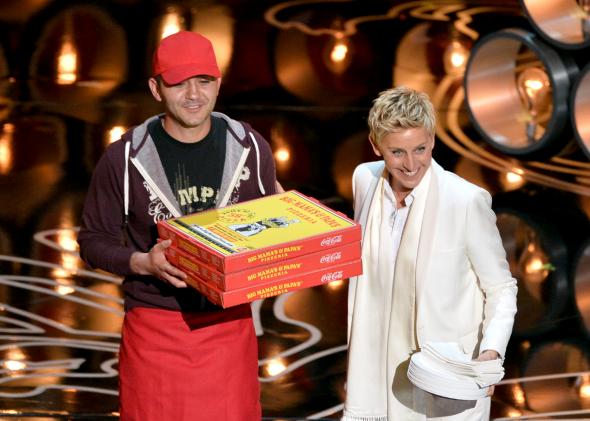 The longest gag of this year's Oscars started when Ellen DeGeneres wandered down the aisle of the Dolby Theater and suggested that she order a couple of pizzas for everyone. The pizzas arrived, and DeGeneres, with the help of a telegenic delivery man, delivered them to the stars. Later, she passed around Pharell's hat to collect cash (and Lupita Nyong'o's lip balm) to go toward the cost of the pizzas. The stunt inspired two obvious question: Who on earth thought this was a funny idea? And was the pizza any good?
Opinions on the latter question are mixed. Big Mama's and Papa's Pizzeria, a Los Angeles chain with 20 locations, provided the pizza (or at least the pizza boxes) for the ceremony. Big Mama's is known for its enormous pies—it bills itself as "Home of the World's Largest Pizza," and its website bears a photograph of a 2,916-square-inch pizza dubbed "the Giant Sicilian."
But bigger is not always better. The Hollywood location of Big Mama's—just eight blocks or so from the Dolby Theater—has a 3½-star average rating on Yelp. As is often the case on Yelp, the reviews tend toward the hyperbolic. A sample one-star review:
This is just literally the worst pizza ever.
Their delivery is fine with time and stuff, but just don't order this pizza. I'm so mad I got it for dinner last night.
Because it is just the WORST pizza. Like in The Office, there is that early episode where Michael orders the wrong pizza and it's just like hot garbage and everyone is mad. You'll be mad.
To be fair, some people like Big Mama's a great deal. The most recent reviewer declares their honey-garlic chicken wings the "Best damn things I ever put in my mouth!" Others declare Big Mama's "Overall great tasting pizza," "My new favorite," and "Always the best pizza ever." None of the three Los Angelenos I am watching the Oscars with have tried Big Mama's, so I unfortunately cannot provide any more personal viewpoints on Big Mama's.
I can, however, offer a theory for why Big Mama's deserved their Academy Award product placement: They seem to have a flair for the dramatic. When I called Big Mama's to seek an interview with the manager (who wasn't in), I was put on hold for several minutes and was treated to a recording of a guy reciting information about the franchise in a badly faked Italian accent over jaunty accordion music: