Where Do I Start With Benjamin Britten?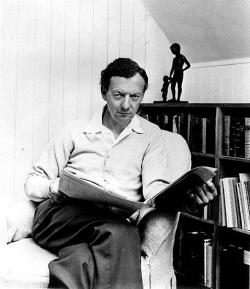 For this month's Slate Book Review, I wrote about at a new biography of Benjamin Britten. In that book, author Neil Powell bridles a bit at the reductive assessment of scholar and critic Richard Taruskin, who wrote in his Oxford History of Music that Britten was "a specialist in opera."
Though few opera buffs would object to putting the composer of Peter Grimes, Billy Budd, Turn of the Screw, and Death in Venice in a special class of musical dramatists, Powell is right. If you think of Britten as merely an operatic titan and leave things there, you'll miss out on his Violin Concerto and the Cello Symphony, not to mention heavyweight works like the War Requiem and exquisite lighter-hearted fare (such as the Young Person's Guide to the Orchestra, which you may have heard in Wes Anderson's Moonrise Kingdom).
The appended Spotify playlist is designed to get you into Britten exploration mode. It doesn't omit opera, of course. In fact, it starts off with a couple of the "Sea Interludes" from the original recording of Peter Grimes—in part since those instrumental pieces have become orchestral staples, outside the opera house. I've also included the aria "Now the Great Bear and Pleiades," because it's a great introduction to tenor Peter Pears' long-term collaboration with Britten. (If you like the studio recording of Grimes, be aware there's also a great '60s-era BBC filmed version of the opera, also starring Pears, now available on DVD.) Also included from among the many, many excellent Britten/Pears recordings is their second recording of the Serenade for Tenor, Horn and Strings.
But Pears isn't the only vocalist worth hearing in Britten's song cycles. Nicholas Phan impressed lots of Britten fans in 2011 with his take on the composer's Hardy settings, known as Winter Words. Among other recent interpretations to enter the discerning Britten listener's canon is the Oregon Symphony's recent performance of Sinfonia da Requiem at Carnegie Hall.
Outside of selections from Peter Grimes, a chunk of Death in Venice, and cuts from "Noye's Fludde" and "Curlew River," there's no opera here. But that's partly because if you get into Britten, you'll want to check out those pieces in full—and ideally, see them staged. Luckily, the Glyndebourne festival has been on a tear of late, and made two great productions available on DVD/Blu-ray. The festival's haunting, dreamy Turn of the Screw should be first on your list. If you enjoy the home-theater version of going to the opera, consider acquiring Billy Budd next. Just don't box Britten in as an opera guy, and thus forget to check out the composer who wrote the engaging Simple Symphony, or who even betrayed a bit of Stravinsky-ian bounce in his Opus 1, the Sinfonietta.